Newsmax Joined Rest Of ConWeb In Hating Biden's Speech
Topic: Newsmax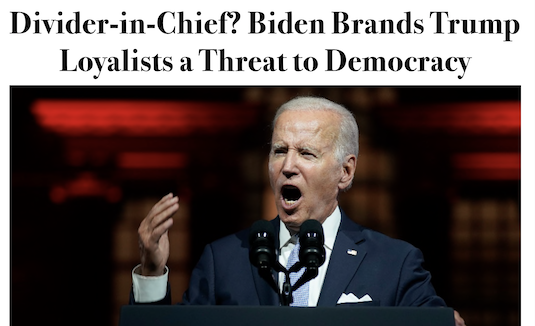 Like the Media Research Center, its "news" division CNSNews.com and WorldNetDaily, Newsmax did what it could to attack President Biden's Sept. 1 speech calling out right-wing extremism embodied by Donald Trump and his supporters. A "news" article, apparently a Reuters piece that was "contributed" to by Newsmax, led off its coverage under the headline "Divider-in-Chief?":
President Joe Biden charged Republican allies of Donald Trump with undermining the country's democratic foundations and urged voters on Thursday to reject extremism ahead of midterm elections in November.

His attack, detailed in a draft speech released earlier in the day, was speedily and forcefully rebuked by GOP leaders who have accused "divider-in-chief" Biden and his supporters of dispensing their own brand of damaging, dangerous rhetoric.
Newsmax also devoted an article by Charles Kim complaining that "Progressives appear to be very happy with President Joe Biden's speech."
Jeffrey Rodack served as the servile pro-Trump stenographer of Trump's rage-posting in a Sept. 2 article:
Former President Donald Trump is blasting Joe Biden's prime-time speech, calling it "awkward and angry," and saying the president "must be insane or suffering from late stage dementia."

Trump made his remarks in posts on his Truth Social platform after Biden's Thursday night speech.

He wrote: "Someone should explain to Joe Biden, slowly but passionately, that MAGA means, as powerfully as mere words can get, MAKE AMERICA GREAT AGAIN! If he doesn't want to Make America Great Again, which through words, action, and thought, he doesn't, then he certainly should not be representing the United States of America!"

He also posted: "If you look at the words and meaning of the awkward and angry Biden speech tonight, he threatened America, including with the possible use of military force. He must be insane, or suffering from late stage dementia!"

In another post, Trump showed side-by-side photos of Biden with both arms raised while making his prime-time speech and of himself kissing the American flag.
Sandy Fitzgerald transcribed a Newsmax TV appearance by right-wing activist Matt Schlapp, who claimed that Biden's speech "shows he is a president "who hates half of America" and wants to deprive them of their rights." Apparently, Schlapp believes that trying to overthrow the government on behalf of a mentally unstable man is a "right."
Fitzgerald followed that with another Republican's attack on the speech:
President Joe Biden's "hypocrisy" was on display Thursday with his anti-MAGA speech at Independence Hill in Philadelphia, especially considering he campaigned on a promise to heal and unite the nation, Rep. Scott Fitzgerald said on Newsmax Friday.

"I think what you're seeing is with 67 days left until the election that somebody at the White House has polling that says what they need to do is divide the Republicans and somehow cast out a specific percentage of them and alienate them and hopefully they won't show up and vote in the midterms," the Wisconsin Republican said on Newsmax's "National Report." "A partisan message is a political message and it's outrageous, the way it was presented yesterday."
Yet another Rpeublican appeared on Newsmax TV to attack Biden, which Fitzgerald also dutifully transcribed:
President Joe Biden and the Democrats have given up on attracting people who are undecided or in the middle of the political spectrum based on any achievements, so he had to be divisive in his speech Thursday night in Philadelphia to drum up support among the base to get them out to vote in November, Rep. Guy Reschenthaler said on Newsmax Friday.

"[He was]talking about Jan. 6, for example, calling out MAGA Republicans, which, by the way, are basically Republicans," said the Pennsylvania Republican on Newsmax's "John Bachman Now. "The irony and the hypocrisy are rich when he starts talking about extremism.

"Instead, it's the Democrats who are extreme," Reschenthaler said. "It's extreme to suggest that we should pack the Supreme Court. It's extreme to weaponize the DOJ and the FBI. It's extreme to raid the home of a former president on incredibly flimsy evidence.
Nicole Wells took over the transcribing duties for another GOP TV hit:
Rep. Jody Hice, R-Ga., told Newsmax Friday that President Joe Biden's speech at Independence Hall in Philadelphia last night was "political" and "creepy," despite White House Press Secretary Karine Jean-Pierre saying otherwise.

"It was purely political and the shameful part of it is that he's using the military to politicize his own radical left-wing agenda that continues to wreak havoc on this country," Hice said, during an appearance on Newsmax's "Spicer & Co." "The blood red background was just creepy, the whole thing was creepy, and the use of the military was just inappropriate for this politically driven speech."
Newsmax's own resident Trump toady, Dick Morris, chimed in as well:
President Joe Biden's dark and divisive Thursday speech was not about America, but more about former President Donald Trump to try to turn the attention of the midterm voters to the past president rather than the struggles of the sitting one, according to presidential adviser Dick Morris on Newsmax.

"The question is, why would Biden take these hits — take the risk of giving so incendiary and unpresidential and intemperate of a speech as president — and the answer is because he's essentially falling on his sword to bring the issue to Trump and making this issue all about Donald Trump," Morris told "Saturday Report."

Morris noted the persistent attacks on Trump are going to fail to keep him from running in 2024, as he wrote in his book.

"Now the only issue will be Trump and the archives, and it's a trivial issue: literally overdue library books; here's no national security implications," Morris told host Rita Cosby.
As we've noted, the faulty library-book excuses comes straight from Trump's lawyers.
Newsmax columnists unsurprisingly hated the speech as well. Michael Dorstewitz issued a litany of complaints, only some of which had to do with the speech::
President Joe Biden pointed his finger in the wrong direction during last night's prime-time speech when he purported to describe an "ongoing attack on democracy."

There's no questions but that America's rights and freedoms are under attack. But they're under attack by the Democratic Party, not what he calls "MAGA Republicans."

[...]

And on the subject of identity politics, Rachel Levine was chosen as the first transgender assistant secretary of Health, Sam Brinton as the first nonbinary deputy assistant secretary of Energy, and Karine Jean-Pierre as the first Black and openly LGBTQ female White House press secretary.

[...]

Continuing the definition, under "severe economic and social regimentation," Biden implemented onerous COVID restrictions, making vaccination of an experimental drug a prerequisite to continued employment.

The administration also pushed to severely limit in-person learning.
Dorstewitz didn't explain why it was a bad thing to do what needed to be done to try and limit the spread of a deadly virus, and he failed to mention that the COVID vaccine was developed under Trump (and is not "experimental").
Newsmax was still attacking the speech days later. A Sept. 6 article transcribed a Newsmax TV appearance by Republican Rep. markwayne Mullin, who declared that ''I think President Biden owes every patriot American out there that's from a red state that voted for President Trump an apology, and he should do it now,'' and another article gave space to GOP Rep. Ralph Norman to whine that "Joe Biden did what he always does, which is use his voice to basically lambaste anybody that voted for President Trump. His hatred is that big."
Posted by Terry K. at 5:57 PM EDT
Updated: Wednesday, October 12, 2022 6:14 PM EDT