CNS Lets COVID Misinformer Complain About Attempt To Curtail COVID Misinformation
Topic: CNSNews.com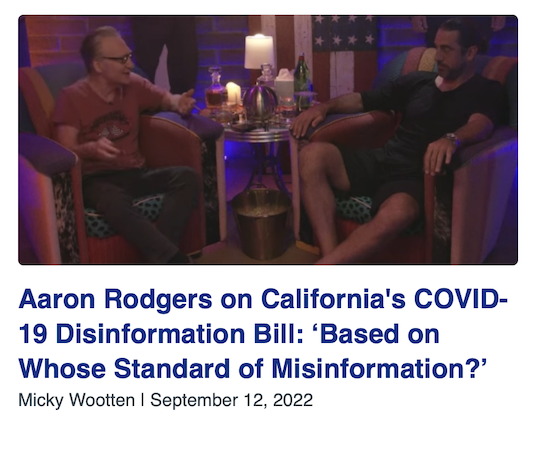 MIcky Wootten wrote in a Sept. 12 CNSNews.com article:
As California's COVID misinformation bill, AB 2098, awaits Democrat Governor Gavin Newsom's signature, Green Bay Packers' Quarterback Aaron Rodgers offered some criticisms of the legislation.

Appearing on liberal commentator Bill Maher's podcast"Club Random" on Sunday, Rodgers discussed, among other things, the public's response to the COVID-19 pandemic and government measures to combat it.

Rodgers criticized California Assembly Bill AB 2098, which would grant the California Medical Board the authority to revoke the licenses of doctors who promote what it deems to be COVID "misinformation."
Wootten failed to report that Rodgers is himself a notorious COVID misinformer. As we documnted, Rodgers lied to his tem last fall by insisting he had been "inoculated" against COVID -- in fact, he had not been vaccinated at all but was taking dubious, unproven medications like ivermectin.
Because Wootten censored that fact, it discredits his attempt to portray Rodgers as some kind of expert on COVID, give that Rodgers himself is a documented misinformer. It doesn't really bode well for fulfilling the "Investigative Journalism Fellow" title bestowed uponhim -- censoring inconvenient information is the polar opposite of being "investigative."
Posted by Terry K. at 1:22 AM EDT
Updated: Tuesday, October 11, 2022 1:27 AM EDT