CNS Whines That 'Extremist' Applies To Both 9/11 Terrorists, 1/6 Insurrectionists
Topic: CNSNews.com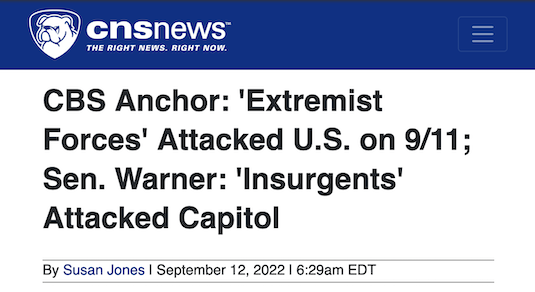 Susan Jones -- a "reporter" who loves to editorialize in her "news" articles -- complained in a Sept. 12 CNSNews.com article:
"Good morning, and welcome to Face the Nation," host Margaret Brennan said as her Sunday talk show went on the air. Her next sentence: "Twenty-one years ago today, Americans united in their grief and in their opposition to extremist forces who attacked the country on September 11," she said.

The word "extremist" is frequently used these days to describe supporters of Donald Trump. President Biden most recently used the word "extreme" to describe those political opponents in a speech on September 9:

"Extreme MAGA Republicans just don't threaten our personal and economic rights; they embrace political violence," Biden said. "They refuse to accept the will of the people. They threaten our very democracy. They — and that's not hyperbole. To this day, they defend the mob that stormed the Capitol on January 6th."
Funny thing, though: Jones made no effort to dispute the accuracy of that description as it applies to Trump supporters -- after all, they have heartily endorsed his lies about election fraud and the insurrection against the government that he led because he's mentally incapable of accepting the fact that he lost an election.She also did not provide an alternative description for such people that she would find more acceptable (though it may not be as accurate).
That's just bad and uninformative reporting. And CNS calls itself a "news" operation.
Posted by Terry K. at 3:41 PM EDT