CNS Repeatedly Attacks Biden Speech -- But Doesn't Rebut Its Facts
Topic: CNSNews.com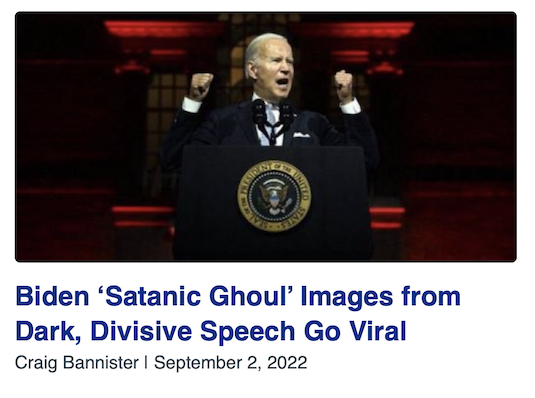 CNSNews.com has whined a lot about President Biden using tough language against right-wing Trump supporters who refuse to accept that the indisputable fact there was no fraud in the 2020 federal elecction and pointing out the threat that poses to the country:
When Biden did make that speech, CNS worked hard to portray it as negatively as possible.Jones was first up to complain:
"Too much of what's happening in our country today is not normal," President Joe Biden said Thursday night in Philadelphia, as he called for the nation to "come together," even as he disparaged Donald Trump and his supporters, saying they "represent an extremism that threatens the very foundations of our republic."

Biden said he wanted to be "very clear."

"Not every Republican, not even the majority of Republicans, are MAGA Republicans. Not every Republican embraces their extreme ideology. I know because I've been able to work with these mainstream Republicans," Biden continued:

[...]

After demonizing Trump and those who agree with Trump's aim to "make America great again," Biden called for unity, as he did in his presidential campaign -- a goal never attained.

"That's why tonight I'm asking our nation to come together, unite behind the single purpose of defending our democracy regardless of your ideology," Biden said:
Jones offered no fact-based rebuttal to anything Biden said, but she made sure to give space to Republican attacks:
In a speech in Scranton on Thursday, a speech billed as a "pre-buttal," House Republican Leader Kevin McCarthy (R-Calif.) said since Biden became president, he "has launched an assault on the soul of America and its people and its laws -- on its most sacred values.
"He has launched an assault on our democracy," McCarthy said: "His policies have severely wounded America's soul, diminished America's spirit and betrayed America's trust.

McCarthy noted that for the past 19 months, Democrats have controlled all branches of government. "They have all the levers of power. So let me ask you this: How have they done?...Are you better off? What has two years of one-party rule in Washington given us?"
Then the cherry-picking began.Patrick Goodenough groused that "On a day when President Biden in a combative speech lumped opposition to abortion with other purported characteristics of the "extremism" represented by "MAGA Republicans," a DNC Twitter post on the subject prompted a plaintive question from the advocacy group Democrats for Life of America: "What about pro-life Democrats?" We don't recall CNSgiving pro-choice Republicans similar deference. Jeffrey brought his anti-abortion obsession as well:
President Joe Biden delivered an address in front of Independence Hall in Philadelphia on Thursday night--that the White House described as remarks on the "battle for the soul of the nation"--in which Biden advocated for same-sex marriage and killing unborn babies through abortion.

"MAGA forces are determined to take this country backwards—backwards to an America where there is no right to choose, no right to privacy, no right to contraception, no right to marry who you love," Biden said.
Since it had trouble rebutting Biden on the facts, CNS then moved to optics. An anonymously written article complained:
President Joe Biden used two members of the U.S. Marine Corps as props to stand behind him outside Independence Hall in Philadelphia on Thursday night as he delivered a speech attacking what he called "MAGA Republicans."

[...]

At Friday's White House press briefing, reporter asked Biden spokeswoman Karine Jean-Pierre: "Where does the president think the line should be drawn for having members of the military, who could be perceived as being part of stagecraft for an address?"

"Where does the president see the line for having members of the military included?" the reporter asked.

In her response, Jean-Pierre defended the use of the Marines and said the Biden's speech "was not a political speech."
The anonymous reporter censored the fact that Trump had no problem using the military as props for his own political purposes.
Craig Bannister devoted an article to repeating right-wing attacks on the "ominous" lighting of the stage from which Biden gave the speech:
Ominous images from President Joe Biden's "battle for the soul of America" prime-time address Thursday night went viral on social media, as the angry, animated president stood before a striking blood-red background with Marines on either side in the shadows behind him during a "dark and divisive" speech.

[...]

"Satanic Ghoul," commentator and Podcaster Allie Beth Stuckey tweeted, captioning one screenshot of an enraged Biden with arms raised and fists clenched during the speech.

"Biden Goes Third Reich. Progressives Fawn Over Their House Fascist," Radio Host Eric Erickson tweeted, along with the picture. "Staging by Leni Riefenstahl," Erickson commented in an earlier post of the image.
In a separate article, Bannister cheered that "Broadcast networks ABC, NBC, and CBS aired their regularly-scheduled programs Thursday, instead of President Joe Biden's angry, divisive speech attacking Make America Great Again (MAGA) Americans."
There were still more attack articles as well:
For all their political attacks, none of these articles offered a fact-based rebuttal to anything Biden said in his speech.
Posted by Terry K. at 10:25 AM EDT
Updated: Wednesday, October 12, 2022 9:28 PM EDT