After Mar-a-Lago Raid, Newsmax's Morris Gets Stuck In Trump Defense Mode
Topic: Newsmax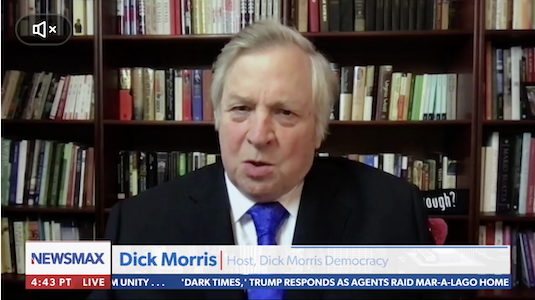 Notoriously wrong Newsmax pundit Dick Morris had to shift his pro-Trump groveling in his Newsmax TV appearances from selling his new pro-Trump book to defending Trump following the FBI raid on his Mar-a-Lago compound in search of purloined classified documents. More than two weeks after the raid, Morris was still in post-raid defense mode:
Morris claimed in an Aug. 26 appearance that "claims of a search for archives was a "pretext' to find evidence that could be used to keep him off the 2024 ballot," adding that "they waited a year and a half to go after him. So how vital could these security issues be?"
In another TV hit the same day, he complained that "the Mar-a-Lago raid affidavit was heavily redacted, with the Justice Department's real motives still "buried beneath black ink," insisting that the Justice Department "saw [a] fabulous political opportunity to embarrass Trump, and they raided Mar-a-Lago."
In an Aug. 29 appearance, Morris asserted that <"I think the Democrats realized [they can't beat Trump at the polls] and they decided to abstain from the political process and just use the control of the FBI and the IRS, and the various government agencies, to hound Trump out of office, and hopefully indict him, and make it illegal for him to run."
Morris was still spinning the raid in a Sept.5 appearance:
''The strategy here by [President Joe Biden's] people is to get off the presidential record and attack Trump personally, and the key element was raiding Mar-a-Lago. That is just creating an issue for Trump that's terribly effective for him,'' Morris said on ''Spicer & Co.''

''The next step will be, I think, that they're going to indict Trump on a records violation about the [National] Archives. That's a little bit like indicting someone for having an overdue library book because the archivist is in, the last analysis, a librarian.

''Basically, their nose is out of joint that all the books haven't come in yet. The only thing that would make it serious is if there's a credible accusation that Trump leaked our secrets to the Russians or the Chinese, and he didn't for four years as president, and he hasn't for two years as a former president.''
Morris was parroting Trump lawyers in making the overdue-library-book claim.
Morris still couldn't stop talking about the raid a month later. He ranted in a Sept. 10 TV appearane:
The raid of former President Donald Trump's private residence at Mar-a-Lago might not be about securing an indictment as much as covering for the FBI's pursuit of Trump, according to presidential adviser Dick Morris on Newsmax.

"We need to go from defense to offense on this," Morris, who has advised former President Bill Clinton and former President Donald Trump, told "Saturday Report." "I think that one of the big reasons — if not the major reason — that the FBI seized those documents is that they incriminate not Trump, but the FBI in the Russia collusion scandal, in the scandal of spying on Trump's campaign, and in the scandal of fabricating evidence to the FISA court to lead to wiretaps on key Trump officials."
It got to the point that an article by Jay Clemons on a Sept. 12 appearance that seemed to mock Morris' relentless Trump-fluffing:
Political consultant Dick Morris, who's been busy touting "The Return," a New York Times best-selling book about former President Donald Trump, doesn't need much goading when it comes to making Trump-affiliated prognostications on Newsmax.

While appearing on "Rob Schmitt Tonight" Monday, Morris rattled off four sequential predictions involving Trump and his ongoing document dispute with the Justice Department (DOJ), regarding sensitive materials that allegedly contain "classified" or "top-secret" markings.

Morris' predictions include:

U.S. District Judge Aileen Cannon's decision to grant the Trump

team's special master request will be sustained, after the DOJ appeal.
There won't be enough incriminating documents to formally indict Trump in a grand-jury setting.
The Republicans will claim the majority in the House and Senate chambers for the upcoming midterm elections (Nov. 8). Right now, the Democrats control the House and Senate.
Starting as early as January 2023, House GOP investigators will put the FBI and DOJ under further scrutiny, in terms of explaining or justifying the FBI's Aug. 8 raid< on Trump's Mar-a-Lago resort, along with the House hearings on the Jan. 6, 2021 unrest at the Capitol.

"And these Mar-a-Lago documents [that Trump possesses] will be Exhibits A, B, and C in the case against the FBI," quips Morris.
Clemons didn't disclose to readers that his employer published Morris' book.
Morris totally bought into a pro-Trump conspiracy theory in another Sept. 12 appearance:
Speculating to Newsmax on the documents the FBI took in its raid on Mar-a-Lago, Dick Morris tells "American Agenda" that the documents are a "smoking gun," illustrating collusion between the FBI and the Department of Justice.

"I believe that the primary motivation of the FBI in breaking in and seizing those documents" is that the agency is "trying to defend itself against Trump's condemnation," Morris says.

"I think," Morris continues, "Trump took those documents because he believed that they contain evidence of a smoking gun of FBI and DOJ collusion in the Russia-hoax scandal, in the tapping of his phone as president, and getting FISA warrants — on perjury grounds — to surveil his staff."

"I think the reason the FBI raided was to get those documents back before Trump made them public."
Morris wrapped failed right-wing prosecutor John Durham into his conspiracy theories in a Sept. 16 appearance:
Former President Donald Trump took boxes of documents to his Mar-a-Lago estate to "allow him to go after the FBI," not to keep himself from being investigated, Dick Morris, the author of the book "The Return: Trump's 2024 Comeback," told Newsmaxon Friday.

"The issue here is not the documents Trump took, but what's in them," Morris told "National Report." "I believe that the evidence will eventually show that it includes a smoking gun proving the allegations made by John Durham, the special prosecutor, three days ago."
Morris is nothing if not a slavishly loyal pro-Trump shill.
Posted by Terry K. at 3:39 PM EDT