MRC Hates Dwyane Wade For Supporting His Transgender Child
Topic: Media Research Center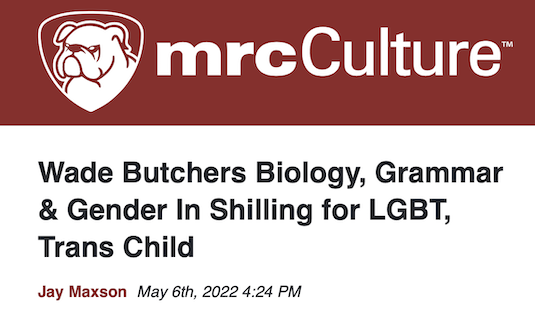 We've previously noted the Media Research Center's sick contempt for NBA star Dwyane Wade for supporting his transgender child. It has continued to spew at at Wade for expressing parental love for his child. Jay Maxson -- who, ironoically, remains so anonymous that we don't know what sex this sports blogger is -- ranted in a November 2021 post:
Want a "model" family that will make you a hero of the Left? Encourage one of your children to claim gender confusion and then tell the world how incredibly wonderful that is. This worked to perfection for former NBA all-star like Dwyane Wade, who said Tuesday night on Comedy Central's The Daily Show recently that his transgender son is developing into a beautiful young woman.

Papa Wade appeared with Trevor Noah on The Daily Show to promote his photo memoir, Dwyane, but the former basketball star's support for the transgender movement is what was memorable. Noah asked him about his son Zaya (appearing at far left in photo), who assumed a female identity two years ago at the age of 12. Embracing the child's gender confusion, Dwyane and his wife Gabrielle Union are considered among the best moms and dads ever by the Left.

[...]

On Monday, Delilah Gray of Yahoo Life fawned all over Zaya's appearance in a Wade family photo. The photo was on a "whole other level" and Zaya "stole the show," she wrote. "But seriously, Zaya looks so stunning in her suit and pointed boots — and we're so happy to see her doing amazing." Zaya's life has been "a whirlwind so far after coming out nearly two years ago as a transgender woman. She's been blossoming this past year with her new i-D photoshoot and advocating for people to be their most authentic selves."

Gray added that Zaya's parents are the "absolute best" (as they use the child like a pawn for the transgender movement).
Maxson whined in a May 6 post:
Dwyane Wade was an NBA champion and all-star who's now in retirement and shilling for the LGBT agenda. His son, Zaya, announced at the age of 12 he was a "girl, but Wade is now saying he held his "daughter" in the hospital the day "she" was born. This startling contradiction of family history appeared in a Variety magazine interview Wednesday.

Wade also says Zaya actually knew he was a girl at the age of three. Even though children that young do not understand biology or know what transgenderism is all about. Also, he says, he was looking at his "daughter" when Zaya was born – 12 years before he came out to his family.

Papa Wade was slow to get with the LGBT program, but now he's busy revising family and gender history. Of course, the left-stream media is not calling out Wade on his amazing and bizarre discombobulation of family history.

[...]

Zaya Wade has previously attended pride events, and Dwyane Wade publicly speaks out about the proper use of pronouns. Though he's butchering biology, gender and grammar in the process.
Maxson added: "Wade has been criticized for his parenting ability; he recently posted a photo of Zaya kissing a trans boyfriend, and some responders said he's failing as a father." Yes, transphobes like Maxson would think Wade is "failing" his child by offering love and support; they would rather that Wade disown Zaya for not conforming to right-wing gender ideology.
Maxson's fellow sports blogger, John Simmons, issued his own attack on Wade and his child in a June 9 post:
Dwayne Wade is afraid for his son's life, or as he would want you to say, his daughter.

At the TIME100 Summit on Tuesday, the three-time NBA Champion said that he fears that Zaya, his 15-year-old transgendered daughter, will live in a world where he will be hated.

"As blessed as it is for my daughter to have parents who can support her, I'm still afraid every moment she leaves the house," he told CNN's Poppy Harlow at the event. "And not just because of gun violence, but because of the way people perceive her in this world."

Wade said in his emotionally-driven rant that he is afraid for Zaya because many states are banning transgendered women in sports or preventing doctors from giving gender-affirming care for youth (which are good things, by the way).
Interestingly, Simmons didn't dispute Wade's contention that transphobes like himself are putting Zaya's life in danger -- apparently, he's good with the idea that transgender people should be afraid to go outside for fear of their lives. Instead, he lectured Wade on being a parent -- despite offering no evidence that he is one himself:
First of all, a three year old is barely in any position to be taking care of their own basic needs, let alone decide one day that they are transgender. Wade and his wife, Gabrielle Union, should have immediately thought to themselves, "We should try to correct his thinking."

Second, instead of Wade actually doing his job to persuade and correct his son, he let him go down this long and dark road of building his life on a lie.

Third, he makes the decision to go on stage at an event put on by the most iconic magazine in the world and not only support his son's decision, but ridicule those who stand for truth. He also had the audacity to say that he might even run for office someday in the future.

What a convoluted mess that just further shows how desperately our country needs strong fathers.
Yeah, Simmons' demand that Wade hate his child for being the person he is will surely go over well.
In a similar vein, Maxson expressed anger in a Aug. 22 post that Wade defied the wishes and violent threats of Maxson's fellow transphobes to continue to support Zaya:
In the goofy gender-bending world of the Left, boys will be girls and girls will be boys. Zion Wade, the son of retired NBA guard Dwyane Wade, is attempting to legally become Zaya Malachi Airamis Wade, the "daughter" of Dwyane Wade. Wade the father fears that Wade the son/daughter will be the victim of violence.

Despite fearing violence against his transgender child, Papa Wade last week filed a legal petition to change the name and gender of his youngest son. Zion came out seven years ago on the Ellen DeGeneres show as a transgender and said he prefers to go by "Zaya." The dad requested that a Los Angeles County superior court issue a legal decree recognizing that the minors' gender is changed to "female."

Also, the petition specifically cites the reason for the change: "to conform with gender identity." The court is expected to go along with this ruse, though gender is immutable.

"We're just trying to figure out as much information as we can to make sure that we give our child the best opportunity to be her best self," the elder Wade said.

[...]

Zaya's parents (seen in photo with their trans son) take their role as parents so seriously, in fact, that throughout their child's life, they merely give in to whatever reality he attempts to create. Which is highly concerning, given that what's happening now can substantially impact the remainder of Zion Zaya's life.

The Wade parents seem more concerned about their own popularity, their son appearing on a red carpet and how "she" answered media questions and being how "she" is recognized as one of the "young faces and voices for the LGBTQ+ community." It's more about pleasing the Left than dealing with the child's confusion, and that's sad.
Like Simmons, Maxson did not dispute that Wade's fear of violence against Zaya is justified. Indeed, Maxson and Simmons care more about pleasing the hateful right-wing anti-LGBT ideologues they work for than try to comprehend the love a parent has for his child. That's even more sad than anything they can come up with.
Posted by Terry K. at 10:32 PM EDT