WND Still Trying To Falsely Credit MyPillow For Retailer's Woes
Topic: WorldNetDaily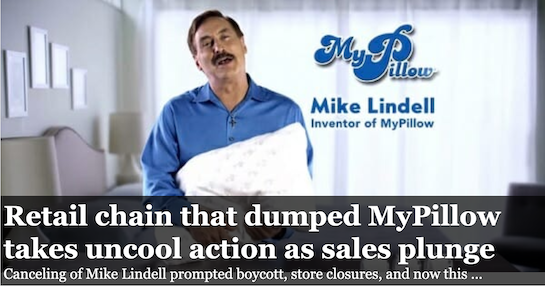 Back in January 2021, we busted WorldNetDaily for falsely claiming that a drop in the stock of retailer Bed Bath & Beyond was directly tied to a right-wing boycott of the company after it stopped carrying MyPillow products when that company's leader, Mike Lindell, insisted on spreading lies about election fraud. The writer of that bogus article, Art Moore, is still trying to credit the decision not to stock MyPillow for the retailer's continued woes, writing in a June 29 article:
Bed Bath & Beyond – one of the first companies to stop selling Mike Lindell's MyPillow products because he challenged the result of the 2020 presidential election – now is curbing the air conditioning in its stores to compensate for slumping sales, according to a report from Bank of America.

The nationwide retailer's decision in January 2021 to quit selling Lindell's products was met with a boycott. Later that month, shares of Bed Bath & Beyond plunged 36.4%, the biggest one-day loss since going public in June 1992.

The company began 2022 with a plan to close 37 stores across 19 states.
As before, Moore offered no evidence that any MyPillow-related activity has anything at all to do with issues at Bed Bath & Beyond. Indeed, he went on to note reports that "An easing of COVID restrictions means a lower demand for home goods and supply chain problems have led to a lack of inventory to attract customers."
But then, if Moore didn't insist on lying to his readers, he wouldn't have a story hook.
Posted by Terry K. at 6:51 PM EDT