WND Falsely Fearmongers About 'Child Bride' Laws
Topic: WorldNetDaily
Bob Unruh wrote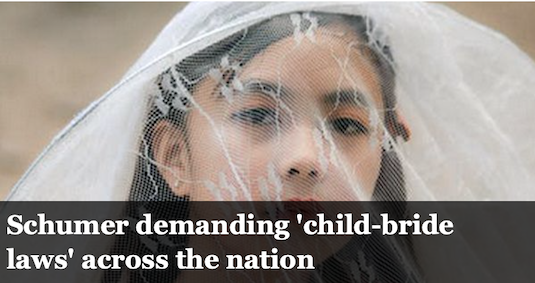 in a Sept. 8 WorldNetDaily article:
Sen. Chuck Schumer, a Democrat who is known for endorsing the debunked "Russiagate" collusion conspiracy theory Democrats launched against President Trump as well as verbally threatening the justices on the Supreme Court, by name, is demanding that "child bride" laws be instituted nationwide.
That's part of an analysis from Mat Staver, founder of Liberty Counsel, which fights for religious and civil rights.

He was addressing Schumer's stated plan to push HR 8404 through Congress within weeks.

That plan, called the "Respect for Marriage Act," although it essentially destroys the historic and traditional concepts of marriage, is one of the congressional Democrats' top priorities.

"In addition to same-sex marriage, California will be able to force its pedophilia-enabling child bride laws on every other state ... and every other state will be forced to honor those insane laws!" Staver explained.
The Respect for Marriage Act has nothing to do with California "child brides" -- that's just a fearmongering attack from Liberty Coiunsel that Unruh doesn't botther to fact-check or challenge because's a stenographer, not a reporter. If Unruh had bothered to do any research before writing his article, he would have learned two things.
The first, as a reputable news outlet reported, is that several states -- not just California -- have no minimum age for marriage, which makes it nonsensical for Staver to put solely blame California. Mississippi is also among the 12 states that has no minimum marriage age, but Staver and Unruh can't manufacture any right-wing outrage invoking that state the way the can by invoking California and Schumer.
The second is that one key opponent of states raising minimum marriage age is Republicans and conservatives, who are actually invoking the "sanctity of family" in opposing that. Interestingly, these conservatives are working with civil liberties groups like the American Civil Liberties Union to fight higher minimum ages for marriage, which led to the defeat of a California effort in 2017 to set a minimum age of 18. A bill passed in the state thte next year "placed strict guidelines on judges who approve such marriages, requiring them to interview the parties, gain consent from parents, and report any suspicious circumstances, and also mandated counties collect data on child brides."
All of this is window-dressing to obscure their usual hate of same-sex marriage, which is actually what the Respect for Marriage Act is designed to enshrine into law. Indeed, Unruh approvingly quoted Staver ranting that "some children, if the plan is adopted, will be 'placed in danger of pedophilic 'grooming.'"
Again, Unruh did nothing except rewrite Staver's press release, so he's nothing but a lazy stenographer who can't be bothered to do even the most rudimentary fact-checking. And Joseph Farah wants his readers to keep funding this laziness.
Posted by Terry K. at 3:48 PM EDT
Updated: Wednesday, October 12, 2022 3:49 PM EDT