WND Loses It Over Biden Speech
Topic: WorldNetDaily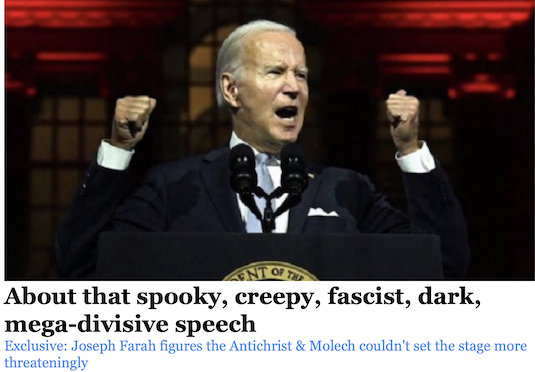 President Biden's Sept. 1 speech calling out right-wing extremists who threaten democracy didn't go over well at WorldNetDaily, which hurled all the invective it could find or invent to attack it. Bob Unruh was up first to parrot the response of right-wing evangelist Franklin Graham, who called the speech an attack on "freedom-loving Americans," followed by attacks from more of Unruh's fellow right-wingers. Unruh followed that by quoting the response of Donald Trump, who is the lead instigator in threatening democracy, and insert his own non-journalistic bias:
President Donald Trump, known for his blunt and often insulting social media comments while in office, was on familiar ground responding to Joe Biden's Philadelphia speech, in which the Democrat blamed patriotic Republicans for trying to kill democracy.

Trump suggested Biden is "insane, or suffering from late stage dementia."

[...]

Biden's speech, highly partisan while he stood in front of a blood-red backdrop and was flanked by U.S. Marines, essentially tried to make the entire 2022 midterm elections about President Trump.

That would divert the public's attention from Biden's own southern border crisis, rampant inflation that has hit America's low- and middle-income families extremely hard, food prices up by double digits, gasoline in the $6 range although it has edged back a bit in recent weeks, massive spending on "green" projects through the misnamed "Inflation Reduction Act" and more.
Then came the hyperbolic reactions from WND's columnists. Here's a sampling:
That speech given by Biden was intended to incite civil war in America. Biden and his communist comrades want violence and a badly divided nation. They're daring us to start a civil war.

You know – exactly like all the BLM and antifa events of 2020.

They want us to do exactly what they already did. Riots, looting, torching, robbing, murder, attacks on police, billions in damage, thousands of businesses destroyed – but with the media's protection, it was all forgotten.

They want conservative patriots to do the same – except this time, their business partners in the media will make us into "America's Most Wanted." They'll call us Nazis, fascists, extremists, traitors, domestic terrorists and insurrectionists. Oh, wait: Biden already called us all of that in his speech – before we've ever done a thing. Can you imagine what they'd say if we actually committed violence?

That's the trap.
-- Wayne Allyn Root, Sept. 2 column
After hearing the president criticize the people who do not agree with him politically, I was left with a feeling of disgust. It seems to me that the man who is in the office of president of my country, declared the winner of the prior election, and considered the leader of the free world, would have more decency than to accuse his political opponent and his supporters of undermining democracy.

It was a cheap shot, and there was much more. He said that free elections are in danger, that our very democracy is at stake, and he warned of political violence, saying that those opponents are fanning those political flames.

All this – and the event was paid for by taxpayers. Great! Americans – Democrats and Republicans – were paying for their president to slam and insult them.
-- Barbara Simpson, Sept. 2 column
MY GOD!

This guy is totally sick, depraved, a hater like no other elected American president in our lifetime, perhaps besides Woodrow Wilson.

We can talk about the influence of Biden's "handlers" – Barack Obama, Susan Rice, Marc Elias, the law firm of Perkins Coie, Ronald Klain. This sounded more like straight on George Soros with a tinge of Adolf Hitler.

[...]

From the standpoint of optics, it was a cross between what you would see from the Antichrist and Molech – only darker and more threatening.

And this was a speech about "the soul of the nation." Uh-uh. Rather, this was a reflection of Biden's soul.

[...]

The man is a dangerous reprobate. God help us.
-- Joseph Farah, Sept. 5 column
In front of a creepy dark red backdrop, with men in military uniforms standing several feet behind him that has since been compared to a scene from George Orwell's dystopian "1984," Biden accused "the extreme MAGA ideology" of engaging in an "ongoing attack on democracy."
-- Rachel Alexander, Sept. 5 column
[L]et me discuss his Philadelphia debacle. It couldn't have been more crude and disgusting if Hillary Clinton, Stacy Abrams and the Obama woman dressed in two-piece string bikinis and lip-syncing the Dixie Chicks had replaced the Marine Corps Band.

However, I did agree with Biden 100% when he opined: "Too much of what's happening in our country today is not normal."

It's not normal in America to force men and women to have deadly toxins injected into them to maintain their employment or careers. That's blackmail and extortion promoted and codified by the federal government.

[...]

I've been around and involved in a lot of elections; I've never witnessed an election in America where a sitting president or presidential candidate who was as close to a guaranteed winner as could be, had millions of votes taken away in the literal middle of the night. This was third-world banana republic fraud.
-- Mychal Massie, Sept. 5 column
Recently, Biden came out of hibernation, and his handlers put him on stage in an ominous, almost Nazi-like setting with a blood-red backdrop, flanked by military guards (never done before in America) as his staff prepped him to project a "tough guy"-Clint Eastwood image, declaring with clenched fists that he was "defending our democracy in the battle for the soul of our nation!"

In this nationally televised address coinciding with the previous day's speech (when he called out traditional conservatives as "semi-fascists"), G.I. Joe issued a red alert regarding the barbarians at the gate as he harangued against patriotic supporters of former President Trump and labeled them as scoundrels who are "extremists … angry … promoting violence … anti-Constitution … taking away contraceptives … stealing our freedoms … undermining our democracy."

[...]

Biden believes he is historically a "messianic" figure like Lincoln during the Civil War and FDR in World War II. I personally pray for him daily but believe he is cognitively deficient, living in a state of denial and devoid of a moral compass to protect human life in the womb, on the border or in war-torn Afghanistan where multitudes were callously left behind as the Taliban reconstitutes, enslaves masses and puts women back into slavery. Where is the outcry from the women of the world?

Like Jimmy Carter, Joe Biden is an accidental president. Carter was given the prize because of Nixon's resignation, Watergate and a weak Jerry Ford. Biden got the job because of COVID, collusion lies (launched by Hillary) and a biased media relentlessly trashing Trump while ignoring the scandal of Biden and his son along with Hillary Clinton's destruction of her 30,000 emails with no FBI investigation of her home.
-- Larry Tomczak, Sept. 6 column
To anyone not living in Joe Biden's Bizarro World it is clear that the Americans who do care about limited constitutional government and the rule of the law are the nation's conservative, those and a few stray friends.

How did such a twisted and demonic speech come out of the mouth of an American president? I speculate here, but I suspect that Biden's unholy ghost may have been Satan himself.
-- Jack Cashill, Sept. 7 column
President Joe Biden's disastrous speech at Independence Hall in Philadelphia last Thursday made headlines, not only for the backdrop of blood-red lighting (which made the building's decorative molding behind Biden look eerily reminiscent of the stiff-winged eagle used by the Social Democratic Party of Nazi Germany), but even more for the deceitful and inflammatory accusations Biden leveled at half the country.

[...]

But this was no mere speech-writing misfire; the panic-pimping is deliberate.

And dangerous.

[...]

It is Biden and the far-left Democrats who pose the real threat to the American system and our way of life. It is not enough to criticize Biden for his false and vicious attacks on Americans. He and his political cronies must be punished by removing them from positions of power for good.
-- Laura Hollis, Sept. 8 column
Could OBiden's Nazi-themed speech of Sept. 1 have been subtle psychological preparation of the American people for imminent war with Russia and a not-so subtle taunt and mockery of Vladimir Putin's pledge to de-Nazify Ukraine (and the West)?
-- Scott Lively, Sept. 8 column
Nope, they didn't take it very well at all, and they're projecting -- pretending that their beloved Trmp was never polarizing or hateful toward his political opponents.
Posted by Terry K. at 6:34 PM EDT
Updated: Thursday, October 6, 2022 10:17 PM EDT