CNS Continues To Hide Pro-Trump Columnist's Links As Trump Adviser
Topic: CNSNews.com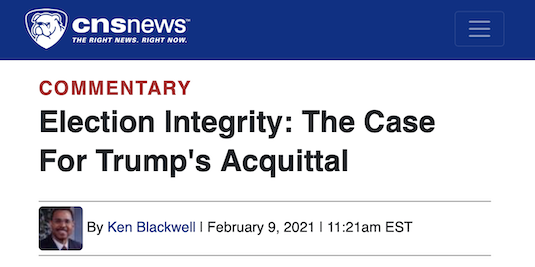 We've documented how CNSNews.com has allowed Ken Blackwell to advocate on behalf of President Trump while rarely disclosing that he was an official Trump surrogate and adviser to his re-electrion campaign. Trump may be gone, but Blackwell is still defending him -- and CNS is still not disclosing his ties to Trump.
In a Feb. 8 column, Blackwell attacked "Democrat Sen. [sic] Pat Leahy" for presiding over Trump's second impeachment trial, declaring that "Leahy's usurpation of [Chief Justice John] Roberts' role in the second impeachment trial of Trump highlights how this whole affair is unconstitutional." The end-of-column bio described him as "a Distinguished Fellow for Human Rights and Constitutional Governance at the Family Research Council, and former U.S. Ambassador to the United Nations Human Rights Commission."
In a column the next day, headlined "Election Integrity: The Case For Trump's Acquittal," Blackwell did actually admit he was a Trump adviser, if only because he was complaining that Trump didn't take his advice not to use the term "law and order" because it turned off black voters and "suburban white voters" and hoping Trump takes his advice on how to argue that the presiential election may have been stolen from Trump by focusing on "massive irregularities" and not "wide-eyed conspiracy theories."
Blackwell spent his March 16 column huffing that the New York Times was using "its hatred of all things Trump" to fight against Republican-led "election integrity" efforts:
In the wake of a presidential election marred by widespread lawlessness that produced unprecedented levels of public distrust, the Times struggles to conceive of efforts to rectify the problem as anything other than acts of obeisance to Donald Trump. In the minds of most leftists, it seems, the term "election integrity" — when used by Republicans — is merely code for "voter suppression." Bad faith on the part of GOP legislators is simply assumed.

In reality, conservative voters and lawmakers have many legitimate reasons to question the security of our electoral process after watching leftist officials participate in an extra-legal public-private partnership with Big Tech billionaires and progressive activists that involved casually disregarding duly-enacted laws that had been put in place for the express purpose of ensuring free and fair elections.
CNS returned to not mentioning Blackwell's Trump ties, with the end-of-column bio stating only that he "is a senior Fellow for Human Rights and Constitutional Governance at the Family Research Council" and "former Secretary of State of Ohio."
Posted by Terry K. at 7:55 PM EDT