CNS Censors Columnist's Ties to Trump
Topic: CNSNews.com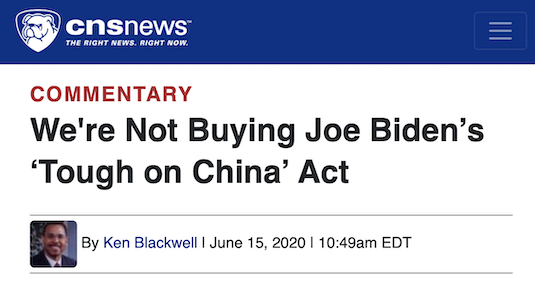 CNSNews.com loves publishing columns by conservative activist Ken Blackwell. It does not, however, love disclosing the fact that he's a Trump campaign and administration adviser -- making his columns stealth campaign ads and CNS a publisher of partisan content that bumps up against what it and its owner, the Media Research Center, is allowed to do under its nonprofit status.
Blackwell served as President Trump's domestic policy adviser as part of the transition team, and he later served on a "Presidential Advisory Commission on Election Integrity," which collapsed under allegations of secretive behavior and attempts to obtain sweeping election records from states for undisclosed purposes as it became clear the commission was little more than a partisan attempt by Trump to manufacture allegations of voter fraud to discredit electoral challenges to himself and other Republicans. Blackwell is a campaign adviser for Trump's 2020 re-election campaign and an official campaign surrogate, and as recently as a month ago, Blackwell said "he has counseled senior White House advisers on the need for the president to tweak his language around policing.
It seems pretty clear that Blackwell is a Trump campaign surrogate. But CNS never describes him as one, even when he is touting Trump and denigrating Joe Biden -- even as the end-of-column tags for him regularly change.
In his March 31 column, Blackwell gushed that "President Donald Trump is preparing the entire country for a rapid post-COVID economic resurgence, even while he works to provide state and local leaders the resources they need to fight the virus." The end-of-column tage stated that he "served as the mayor of Cincinnati, Ohio, the Ohio State Treasurer, and Ohio Secretary of State. He currently serves as an adviser to the Family Research Council and on the board directors for Club for Growth and National Taxpayers Union."
On April 3, Blackwell claimed that in a coronavirus relief package, "Speaker Nancy Pelosi and her fellow Democrats tried to include language making it easier to commit vote fraud with the ballots of our military stationed overseas." The end-of-column tag did not disclose that Blackwell served in Trump's discredited "election integrity" commission; rather, it stated that "Ken Blackwell is a Policy Board Member for the American Constitutional Rights Union and Protect Military Votes, and former Secretary of State for Ohio."
On April 7, Blackwell harrumphed that "President Donald Trump has shown the country that he is the tough leader America needs during this time of crisis. ... Trump's forward-thinking about China has been proven right, especially as we see the problems faced by outsourcing necessary medical supplies, which should be made by American companies. The tag stated that "Ken Blackwell is the Chairman of the International Foundation for Electoral Systems (IFES). He is the former Treasurer of the State of Ohio and former U.S. Ambassador to the United Nations Human Rights Commission."
Blackwell's April 27 column accused Democrats of "exploiting the pandemic to instill fear in our electoral process" and cheered "congressional guardians of the U.S. Constitution" for stopping measures that would allow for easier options other than in-person voting. Again, Blackwell's position on a partisan "election integrity" panel wasnot mentioned, stating instead that he "served as mayor of Cincinnati, Ohio, Ohio Secretary of State and U.S. ambassador to U.N. Human Rights Commission. He currently serves on the National Leadership Council of the Save Our Country Coalition."
Blackwell ranted in his May 23 column that "Joe Biden and the Democrat [sic] Party have long sowed racial division and promoted identity politics in order to maintain power and control." It was not disclosed that Blackwell is a Trump campaign adviser, only that he "is the former Mayor of Cincinnati, Ohio and U.S. ambassador to the United Nations Human Rights Commission."
A May 29 column co-written by the late Herman Cain touted how "there has never been a president in the White House who has been more supportive of HBCUs and their mission than President Donald Trump." It described Blackwell only as former "mayor of Cincinnati, Ohio, Ohio Treasurer, and U.S. ambassador to U.N. Human Rights Commission."
Blackwell's June 15 column was headlined "We're Not Buying Joe Biden's 'Tough on China' Act" and declared that "Everyone knows about President Trump's record of success in bringing China to the negotiating table through strategic counter-tariffs." It too was silent on Blackwell advising Trump, stating that he "served as mayor of Cincinnati, Ohio Treasurer, a U.S. Ambassador to the UN; he currently serves on the board of directors for Club For Growth."
Blackwell did more gushing in his June 17 column: President Donald Trump is taking unprecedented action to strengthen the relationship between law enforcement and their local communities by recognizing the need to invest more energy and resources in police training and by supporting efforts to bring the police and communities together," declaring that "President Trump is leading through his actions" and that "Joe Biden continues his campaign of "all-talk, no-action" by continuing to criticize the president from the comfort of his own basement." He's described only as "the former Mayor of Cincinnati, Ohio and U.S. ambassador to the United Nations Human Rights Commission."
A June 30 column in which Blackwell declared that Trump's restriction on employment visas "made about 525,000 jobs available so that the millions of unemployed Americans will have a better opportunity to return to the payroll, and to earn a fair wage so that they can support their families" stated only that "Ken Blackwell is the former United States Ambassador to the United Nations Commission on Human Rights."
The only Blackwell column related to the presidential campaign in which CNS disclosed his ties to Trump was a July 6 column in which he declared that "Biden's extraordinarily mild criticism of the extremists who are trying to tear America apart does nothing but reinforce Biden's inability to rein in the anti-American insanity that is now the driving force within the Democratic Party." It stated that Blackwell is "a member of the Advisory Board of Donald J. Trump For President, Inc."
CNS' almost complete refusal to disclose that a columnist's attacks on Biden and praise for Trump comes from someone who is actively a part of Trump's re-election campaign is journalistic malpractice -- an odd position from a "news" organization whose parent loves to attack the journalistic integrity of other news organizations.
Posted by Terry K. at 2:24 PM EDT