MRC Hypocritically Cheers Republican Senator's 'Liberal Hack' Attack on Reporter
Topic: Media Research Center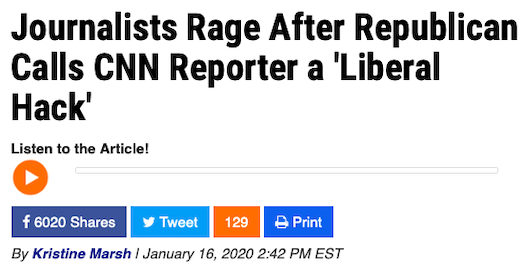 Remember when the Media Research Center had a hissy fit every time Nancy Pelosi called out right-wing Sinclair and ex-Fox News reporter James Rosen for his bias, making sure to rush to his defense while never actually disputing Rosen's bias? Well, you will not be surprise that when a Republican politician attacked a reporter by calling her a "liberal hack," the MRC took that as an article of faith and piled on.
Though the MRC claimed that Pelosi's "anger flared" and was "lashing out" at Rosen, writer Kristine Marsh declared that Republican Sen. Martha McSally was merely being "snarky" when she called CNN's Manu Raju a "liberal hack" and was upset that one commentator said McSally "lashed out." Then she complained that "Raju's pearl-clutching colleagues at CNN and other liberal outlets were quick to defend the reporter through tweets and statements on social media." She failed to mention her MRC colleagues' pearl-clutching in defense of Rosen.
Curtis Houck, meanwhile, mocked the response to McSally's attack as "#FirstWorldProblems for the liberal media," then played some very selective whataboutism by claiming that CNN's Wolf Blitzer "offered no such outrage when, in February 2019, Raju was told off by far-left Congresswoman Ilhan Omar (D-MN)." Houck didn't mention that plenty of CNN personalities did criticize Omar. Houck followed that by touting a "supercut of all the outrage" over McSally's attack on CNN, also playing the selective Ilhan Omar whataboutism card: "Almost a year ago, when leftist Rep. Ilhan Omar was rude to Raju and refused to answer his questions, [CNN media reporter Brian] Stelter's newsletter had.....nothing."
Marsh followed up with a post proudly declaring that McSally "humiliated" Raju, and that complaints about it showed "how reporters have the thinnest skin possible." Showcasing how whataboutism is the order of the day at the MRC, Marsh responsed to a Washington Post reporter's complaint that McSally was fund-raising off herinsult by retorting, "Funny, I haven't seen The Post complain about various Democrat politicians fundraising over their "viral" moments, such as Nancy Pelosi selling merchandise on her moment attacking a right-leaning reporter." At no point did Marsh criticize McSally for her fund-raising. Then she repeated the MRC talking point du jour that "Democrat Rep. Ilhan Omar was rude to this same CNN reporter last year and the media couldn't have cared less."
Gabriel Hays complained that one commentator was "taking cheap shots at Sen. Martha McSally (R-AZ) for calling a CNN liberal hack a 'liberal hack,'" but he offered no evidence proving Raju is, in fact, a "liberal hack." Aiden Jackson promoted a Fox News appearance by McSally defending her attack on Raju, adding the editorial comment that "Americans are experiencing fatigue over the double standard that is constantly on display in the liberal press." She too failed to offer evidence of Raju's purported bias.
Alex Christy grumbled that a CNN repoter "continued CNN's feud with Arizona Senator Martha McSally" (failing to mention that McSally started it) and that he "condemned her for "immediately attempting to fund-raise off of it," as if CNN hasn't also tried to spin this event for their own purposes, in ways they would never do so if it was a Democrat."
Nicholas Fondacaro showed why he may be rivaling Brent Bozell for the biggest jerk at the MRC by engaging in unprofessional name-calling, attacking CNN's Chris Cuomo as "Fredo " for daring to criticize McSally, whining that "Fredo called a historic combat veteran a "punk," meanwhile he had never served a day in his life." (How many days of military service has Fondacaro served?) Fondacaro concluded by sneering, "That was not news. This is CNN." We doubt that Fondacaro has ever typed the words, "That was not news. This is Fox News."
Finally, Clay Waters groused that the New York Times had a double standard about how it treated the McSally-Raju story comparted to the Pelosi-Rosen story -- as if he and his employer don't have one -- and rushed to Rosen's defense and complaining that his employer has been "tarred by the Times as irresponsible and conservative," though he did not dispute the accuracy of that assessment.
Posted by Terry K. at 2:47 PM EST
Updated: Wednesday, January 29, 2020 3:00 PM EST