CNS' Ongoing Freakout Over Biden and Transgender Rights
Topic: CNSNews.com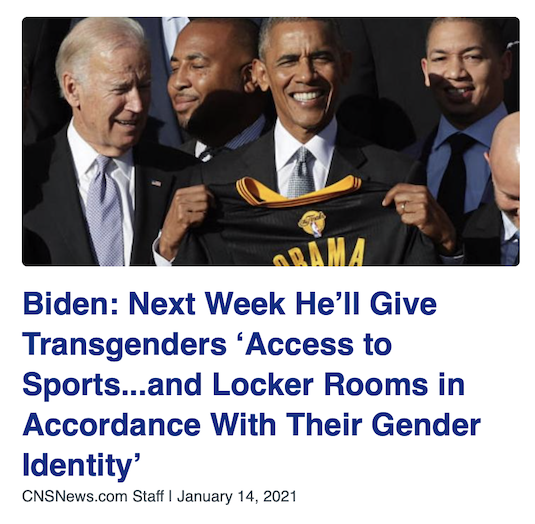 CNSNews.com wants to hate Joe Biden, transgender people ... and anything Biden does to help them. It's been obsessing -- and fearmongering -- about that for months.
We've already seen that CNS has sent interns out twice last year to pester members of Congress about Biden's "intent to order public schools to allow transgender students to use the bathrooms, locker rooms, and sports teams of their choice." But it primed those gotcha questions with months of fearmongering about Biden wanting equal treatment for transgenders:
After Biden won the election, CNS upped its attacks on Biden and transgenders. One post-election article fearmongered that "Biden Says Anatomical Males Should Be Able to Say They Are Female on U.S. Passports," and editor Terry Jeffrey portrayed transgender equality as "evil."
In January, as Biden prepared to take office, the fearmongering ramped up further:
And Biden took office, it was time for CNS to rewrite those fearmongering articles again stating that he did what he said he would do:
These are all "news" articles, and they weren't posted because CNS approves of this -- it's a way to generate right-wing clickbait. Interestingly, most of these are anonymously written, credited only to "CNSNews.com Staff," though CNS' search engine shows many of them were posted through the account of Jeffrey -- the guy who calls transgender equality "evil."
Also note that there is particular fixation on trans athletes, even though any Biden orders proposed or issued would not specifically mandate that transgender athletes play on or against girls' teams and are more broadly ban discrimination. Which is why CNS also published these articles:
At CNS, pushing right-wing anti-trans narratives comes well ahead of journalistic objectivity.
Posted by Terry K. at 12:09 PM EST
Updated: Sunday, February 7, 2021 12:13 PM EST