At WND, The Clinton Derangement Never Dies
Topic: WorldNetDaily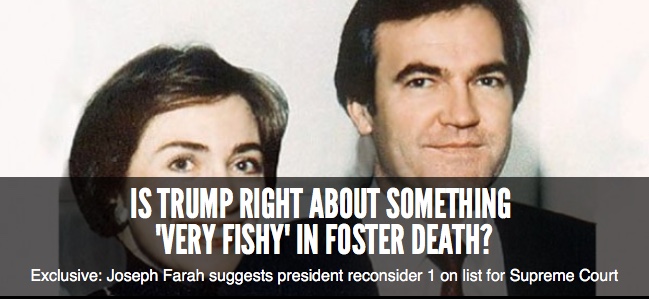 If there has been one constant thread throughout the 20-eyar existence of WorldNetDaily, it is the near-patholigical hatred it has exhibited for Bill and Hillary Clinton. Anger continues to seethe and conspiracy theories continue to be obsessed over by Joseph Farah and his crew.
An anonymously written Nov. 20 WND article tries to revive the "Clinton Body Count" conspiracy theory by suggesting that a onetime supporter of Hillary Clinton's presidential campaign died by nefarious, possibly Clinton-related means, despite no actual evidence of such:
A wealthy Democratic mega-donor who co-founded the Ready for Hillary PAC, which helped launch Hillary Clinton's 2016 campaign for the White House, has died of a gunshot wound to the head after "a sudden onset and battle with a mental health issue," his family says.

Steve Mostyn, a 46-year-old Texas trial lawyer who reportedly contributed millions to pro-Clinton super PACs, was found dead in his Houston home on Nov. 15. Mostyn was a member of the George Soros-founded Democracy Alliance.

Mostyn's death was ruled a suicide by the Harris County Institute of Forensic Sciences. According to the New York Times, Mostyn's wife, Amber, said her husband died after a "sudden onset and battle with a mental health issue."

[...]

Mostyn's death is the latest in a long list of Clinton friends and associates who have died sudden and tragic deaths, many ruled to be suicides.
This is followed by a lengthy list of those purportedly mysterious deaths -- which, as we've documented, aren't.
The same day, Farah wrote a column attacking Brett Kavanaugh, a lawyer President Trump has nominated for a federal judgeship, over his "role in leading the badly flawed investigation into the death of Vincent Foster in July 1993," citing "smoking-gun information" from a former investigator, Miguel Rodriguez. As we've noted, Rodriguez's claims have been floating about for years.
Curiously, Farah never explains what, exactly, Kavanaugh had to do with any of this.
But Farah wasn't done rehashing the events of nearly a quarter-century ago in as conspiratorial a way as possible. The next day, Farah's column went after Kenneth Starr, independent counsel in the trumped-up Clinton scandals of the '90s , first for hiring Kavanaugh and then for failing to find anything to convict a Clinton on -- and, of course, arguing he was part of a conspiracy to protect Clinton:
I couldn't understand why he fired prosecutors who were building a real case against the White House, while he botched even the measly Monica Lewinsky business.

Then I began to figure it out.

Starr was not an independent investigator at all. He was the designated "fixer." He was the cleaner. He was the handler. He was the guy who protected the powerful from themselves. There was no other conclusion to be drawn.

Look, Starr was either the most incompetent prosecutor in the history of the country or complicit in the cover-up of those crimes. I lean toward the latter judgment.

I'll keep telling and retelling this classic Kenneth Starr story until people start to wake up and understand who he is and what he is.

[...]

I admit I have been on a lonely, one-man mission to tell the truth about Kenneth Starr. Few want to hear the truth. Until recently – very recently – Democrats have no desire to shatter the myth they helped create. And Republicans were in no hurry to expose the facade of one of their own fellow Deep Staters.
Or, you know, it could be that Farah is such a pathologically obsessed Clinton-hater that people long ago stopped taking him -- and his website -- seriously.
Posted by Terry K. at 12:39 AM EST