WND vs. Yogurt
WorldNetDaily and reporter Leo Hohmann have made false and malicious attacks against yogurt maker Chobani over its hiring of refugees -- claims that quietly and mysteriously get altered or deleted, sometimes months after the fact.
By Terry Krepel
Posted 1/9/2018
---
Last year, yogurt maker Chobani sued far-right conspiracy theorist Alex Jones for promoting false claims about refugees that work for its plant in Twin Falls, Idaho -- and quickly forced Jones into making a rare public apology and retraction of his false attacks.

But WorldNetDaily reporter Leo Hohmann has also attacked Chobani as well over doings in Idaho. Why isn't he being sued?

The short answer: WND corrected his false attacks.

Hohmann has a history of making false and misleading claims about Chobani and its Idaho plant, linked to his anti-Muslim obsession and the fact that plant has a history of bringing in refugees to work there, some from Muslim countries. In a January 2016 WND article, Hohmann made an unsubstantiated claim that the Chobani plant in Idaho "is in line to receive about 300 refugees this year, many of them Muslims from Syria." Snopes debunked that claim, finding that contrary to what he wrote, "the vast majority of people asking for asylum in Idaho were not from Muslim countries" and only 2 percent were from Syria -- in fact, in 2015 Idaho took in a total of only 28 Muslims from Syria. Snopes added that the "mish-mash of numbers" cited by Hohmann did not appear "directly related in any way to Chobani's founder, or to his company's hiring practices."

But there were other issues with that article as well, starting with the way WND promoted it, with the headline "American yogurt tycoon vows to choke U.S. with Muslims." Numerous media outlets that documented the right-wing war against Chobani and founder Hamdi Ulukaya for encouraging refugees to work in his facilities claimed that this was the original headline on Hohmann's article. We could find no evidence of that; the article was, however, promoted in the carousel on WND's front page with that headline.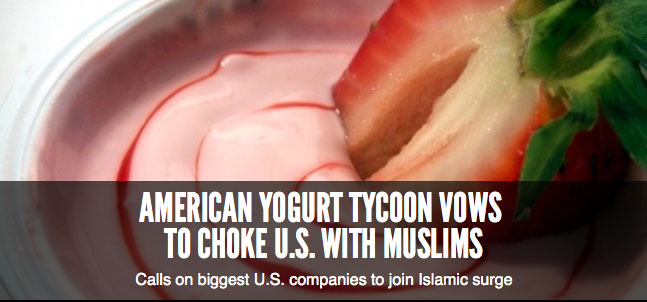 That's not to say the original headline on Hohmann's article -- "American yogurt billionaire: 'Hire more Muslim refugees'" with the subhead "Calls on biggest U.S. companies to join Islamic surge" -- didn't have issues. At no point does Hohmann quote Ulukaya saying "Hire more Muslim refugees," and he doesn't even quote Ulukaya explicitly calling for the hiring of Muslim refugees over other refugees.
Hohmann also wrote that refugees in Idaho are "sent there, many of them, to work in the world's largest yogurt factory" and that Ulukaya "has stepped up efforts to hire as many refugees as he can at his yogurt plants, where they currently account for 30 percent of the total workforce."
But sometime between March 29 and April 3, 2016, the main headline of Hohmann's article was changed to "U.S. Yogurt billionaire asks businesses to hire more foreign refugees." And between June 7 and and June 29, other changes were made:
The subhead became "Calls on major American companies to 'step up and do more'."
Hohmann's assertion that refugees are "sent there, many of them, to work in the world's largest yogurt factory" was changed to "Many of them end up working in the worlds largest yogurt factory."
Hohmann's assertion that Ulukaya "has stepped up efforts to hire as many refugees as he can at his yogurt plants, where they currently account for 30 percent of the total workforce" was changed to read "Currently refugees account for about 30 percent of the total workforce at Ulukayas yogurt plants."
The article also gained an "editor's note" vaguely stating that "This story has been updated since the original posting to clarify certain parts."
WND didn't tell its readers that these updates were made five months after Hohmann's article was first published. And, thus, there's no mention at all of the only logical reason why one would even bother making such significant updates to an article six months after publication: WND heard from Chobani's lawyers.
Hohmann's and WND's walkback seems to have saved WND from a lawsuit from Chobani. It also apparently made WND much more sensitive about pushing dubious claims about Chobani and refugees. A June 30, 2016, article by Hohmann now states: "Editor's note: Originally this story indicated Chobani was going to increase hiring of refugees above the already high 30-percent level, based on a report by Bloomberg News. Bloomberg later scrubbed all references to additional Chobani hiring of refugees."
Alas, WND didn't learn its lesson from that incident. An anonymously written Nov. 14 article -- though one can probably assume it was written by Hohmann -- carried the headline "U.S. yogurt billionaire expands plant to hire more foreign refugees."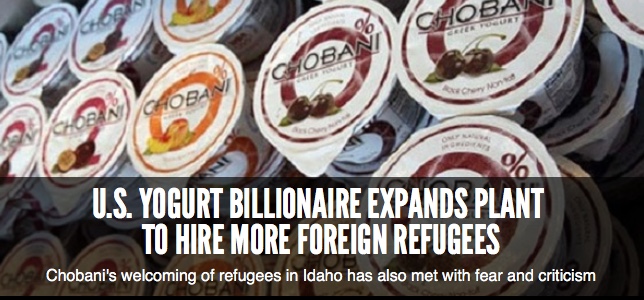 The article complained that "Chobani Yogurt, the world's largest yogurt company, which relies heavily on imported refugee labor, is investing $20 million to expand its plant in Twin Falls, Idaho." The article includes quotes from Ulukaya, but nothing that explicitly states he was expanding the plant solely to hire more "foreign refugees."

For Hohmann's and WND's purposes, "foreign refugees" is code for "Muslim refugees." This is made clearer later in the article by stating that "Chobani's welcoming of refugees in Idaho also has taken a darker turn, however, prompting calls to boycott the yogurt giant after a spike in violent crimes perpetrated by Muslim refugees."

But since Chobani is not afraid to sue, or threaten to sue, those who tell lies about it, it appears WND got another phone call or letter from Chobani's legal team, because some undisclosed editing has taken place on this article. This time, the changes were made more swiftly, by Nov. 17.

The headline of the article was shortened to "U.S. yogurt billionaire expands plant," a statement later in the article referencing "criticism that Chobani's drive for cheap labor and the refugee resettlement there were to blame for the string of horrific crimes" in Idaho was removed, and a statement that "none [of the crimes] have been connected to any Chobani employee" was added.

Also deleted was a claim that "The influx of refugees has also caused the number of active TB cases in Twin Falls to spike by 500 percent between 2011 and 2012, according to Breitbart News." That's highly misleading, because as even Breitbart admitted, the actual number of cases increased from one to six; the Idaho Department of Health and Welfare has added that none of the refugee cases were infectious and have been treated, and that none of the TB cases being treated in the state in 2016 involved refugees.

Despite these arguably significant changes, the article has not been flagged as updated or corrected.

Unfortunately, WND in incapable of correcting a false or malicious story on its on its own, and it takes a credible outside threat for something to happen. But Chobani knows that and -- good for them -- is not afraid to go there.

It's a shame -- and a sad commentary on the state of fact-checking and journalism in general at WND -- that Chobani apparently has to threaten legal action against WND in order to get reported on fairly and accurately.

If Hohmann has learned anything from this, it's that he has to work to make his attacks on Chobani a little more stealthier. Thus, buried in a Jan. 4 article freaking out about the number of Muslims in the United States is a Chobani-bashing slam Hohmann slipped in on the 20th paragraph: "Meat plants in particular, and the food-processing industry in general, have long been a gateway into the United States for Third Worlders looking for a better economic lot in life. Chobani serves as a similar conduit with its massive yogurt plant in Twin Falls, Idaho."

That's nothing more than a restatement of his old lie that Chobani cares only about hiring Muslims. Sounds like it might be time for Chobani's legal team to make another phone call.