CNS Keeps Obsessing Over Everyone's 'Mental Lapses' (Except Trump's)
Topic: CNSNews.com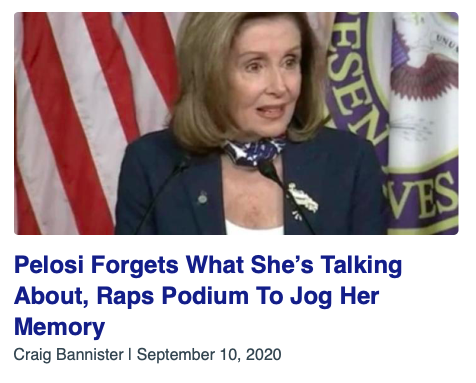 Doing its job as a Trump campaign surrogate, CNSNews.com has been hammering the dubious claim that Joe Biden is suffering from "cognitive decline" -- a manufactured concern it has expanded to Nancy Pelosi. Since we last checked in late July CNS has continued to highlight misstatements by Biden to bolster that narrative, with articles like:
We're not sure what Susan Jones was trying to push in an Aug. 21 article on Biden's acceptance speech that the Democratic National Convention (which Jones deliberately misnamed the "Democrat National Convention"), headlined "Watch: Biden Raised His Voice, Didn't Smile As Speech Ended," in which she actually complained that "at the end of his speech, delivered live at the Chase Center in Delaware, an unsmiling Biden raised his voice, apparently for emphasis, but he looked almost angry."
CNS is continuing to question Pelosi's mental health too. In an Aug. 27 article, Craig Bannister claimed thate "In the span of about twelve seconds, House Speaker Rep. Nancy Pelosi (D-Calif.) appeared to suffer two mental lapses as she struggled to find words when answering a question at her Thursday press event." And on Sept. 10, Bannister ramped it up:
Eighty-year-old House Speaker Rep. Nancy Pelosi (D-Calif.) struggled to finish a sentence, and appeared to bang on her podium in an effort to collect her thoughts, during a press conference on Thursday.

Speaker Pelosi seemed to lose her train of thought, until she rapped twice on the podium, while she attempted to make a point about her climate agenda. But, after recalling the name of her climate bill, Pelosi continued to have difficulty speaking, struggling to finish the words, "return" and "better" as she completed her thought:
CNS even dragged another Democrat into its mental-lapse obsession in an anonymously written Aug. 10 article: "Senate Minority Leader Chuck Schumer (D.-N.Y.) suffered a mental lapse when appearing on MSNBC on Monday morning saying, as he did so, 'uh, um, uh—I got to remember the words.'"
But when it comes to President Trump's mental lapses, well, that's just a "liberal media" narrative. Jones said as much in an Aug. 5 article on how "Jill Biden spoke for her husband, Democrat [sic] presidential candidate Joe Biden" in a Fox News in which she denied that her husband isn't "competent to be presidentand noted that Joe Biden is only a couple years older than Trump. Jones parenthetically huffed in response:
Liberal activists in the media are now focusing in particular on Trump's mispronunciations ("Yosemite") and twisting his words ("It is what it is") to make it look like he doesn't grasp the severity of the pandemic, for example. The intent is to portray Trump as cognitively impaired.
You mean like what you and your colleagues are doing to Biden, Susan? Heaven forfend!
And in an Aug. 25 article, Jones repeated how Trump boasted how "we're going to end up with 302 great Supreme Court Justices," then had to parenthetically add, "(He meant lower-court judges.)" After all, she's not getting paid to question Trump's "mental decline" the way she and her CNS co-workers obsess over Biden's.
UPDATE: In a Sept. 11 article, Jones made a point of noting that "Joe Biden would be the oldest person to take the presidential oath -- 78 years old -- if he's elected in November" in writing about how he "tried to laugh off "this idea of, you know, slow Joe." Jones then went in to pro-Trump attack mode:
Concerns about Biden's health focus mainly on his mental acuity, as he has trouble completing thoughts and speaking without notes or prompts.

As for "who's able to move around," until recently, Biden has spent most of his time sheltering inside his Delaware home and giving controlled interviews via video from his basement studio, while President Trump has traveled around the country, taking criticism from Biden and other Democrat/media activists for holding campaign rally after campaign rally amid the pandemic.
Again, Jones was silent about Trump's mental-lapse issues.
Posted by Terry K. at 12:23 AM EDT
Updated: Friday, September 11, 2020 1:11 PM EDT