Time For Another Bogus MRC 'Study' of Trump Coverage
Topic: Media Research Center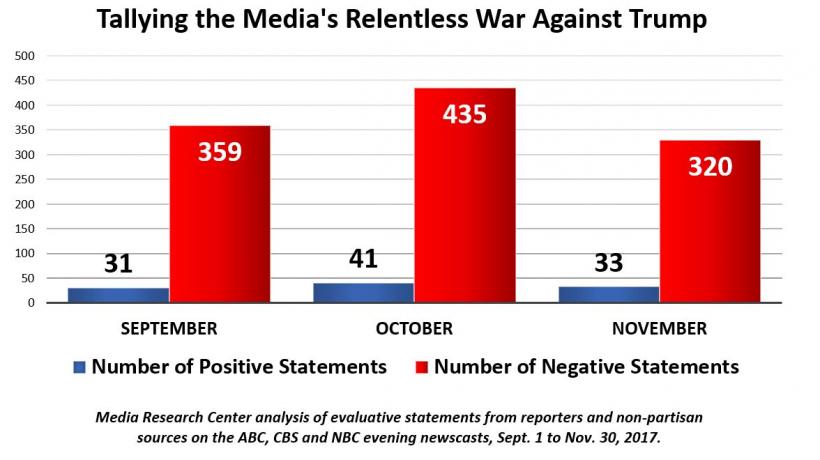 It's another month, so it's time for yet another bogus Media Research Center "study" of media coverage of President Trump. Manufacture some outrage, Rich Noyes:
But as the Media Research Center has been documenting all year, the media have approached the Trump presidency with unrelenting hostility. Our latest numbers show that coverage of Trump on the ABC, CBS and NBC evening newscasts in September, October and November was more than 90 percent negative (our methodology counts only explicitly evaluative statements from reporters or non-partisan sources).

In September, there were just 31 pro-Trump statements on the Big Three vs. 359 negative. In October, the number of positive statements grew to 41, while the negative statements swelled to 435.

In November, there was somewhat less coverage of the President, as political journalists raced to cover the allegations against Alabama GOP Senate candidate Roy Moore, but the ratio remained essentially unchanged: 33 positive statements vs. 320 negative statements.

Add it all up, and coverage of Trump has been 91 percent negative during the past three months. Our study of news in June, July and August found an identical rate of 91% negative, which means TV news is unchanged in its hostility toward the President.
As we have before, let's rehash the ways in which this study is bogus:
It focuses only on a tiny sliver of news -- the evening newscasts on the three networks -- and suggests it's indicative of all media.
It pretends there was never any neutral coverage of Trump. Indeed, the study explicitly rejects neutral coverage -- even though that's arguable the bulk of news coverage -- dishonestly counting "only explicitly evaluative statements."
It fails to take into account the stories themselves and whether negative coverage is deserved or admit that negative coverage is the most accurate way to cover a given story.
It fails to provide the raw data or the actual statements it evaluated so its work could be evaluated by others. If the MRC's work was genuine and rigorous, wouldn't it be happy to provide the data to back it up?

But who cares about crappy methodology that wouldn't pass muster among genuine research analysts when the bogus stuff gets so much coverage? The MRC was tickled to death that White House press secretary Sarah Huckabee Sanders cited the study's headline number, and the MRC's "news" division CNSNews.com published an op-ed by right-wing activist Tony Perkins that promotes the study.
That self-promotion tells us that actual research isn't the point of the MRC's work -- and that supplying a number to its fellow right-wing activists to tout on friendly media outlets, however bogus and ridiculous, is.
Posted by Terry K. at 3:07 PM EST