MRC Will Never Admit Trump Gets Anything Wrong
Topic: Media Research Center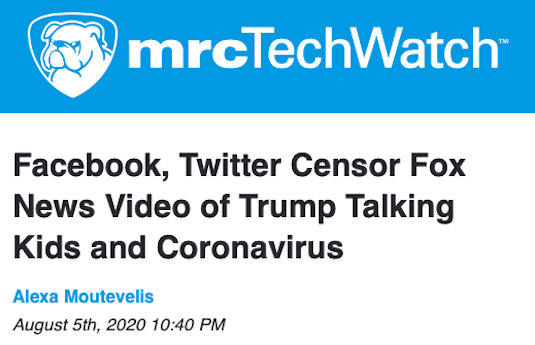 The Media Research Center not only will refuse to admit that President Trump gets anything wrong (beyond Tim Graham's flippant dismissal that he has a "casual relationship with the truth"), it will attack anyone who points out that he does.
In an Aug. 5 post, Alexa Moutevelis complained that "Both Twitter and Facebook acted quickly Wednesday night to remove a video of President Trump speaking on Fox News about the coronavirus' effects on children. The social media sites said the content violated their policies on COVID-19 misinformation." Moutevelis wasn't about to concede what actual news organizations, as well as Twitter and Facebook, pointed out: that contrary to Trump's claim that children are "almost immune" from coronavirus and thus schools should be fully reopened, children represent more than 7 percent of cases, and coronavirus has spread at schools that have reopened.
Instead, Moutevelis played whataboutism -- "Meanwhile, Twitter allows Iran's Supreme Leader Imam Sayyid Ali Khamenei to call for Israel's violent destruction and keeps allowing noted anti-Semite Louis Farrakhan back on the platform" -- served up "what Trump said in full" to offer "more context" (not that it helps Trump's case), and uncritically repeated how "the Trump campaign defended the President's comments."
Moutevelis also reprinted a tweet from her boss, Brent Bozell, defending Trump's lies: "Facebook and Twitter need to stop this crap! They should both be investigated for election interference. To censor the President during an election year, no matter what he says, is leftist election manipulation. Orwell would be proud." Orwell would likely be more proud of Bozell's defense of a (Republican) president's sacred right to lie to the American people.
The next day, Alexander Hall ranted:
President Donald Trump has been censored by Big Tech for commenting on COVID-19.

Facebook and Twitter obliterated a video of Trump speaking on Fox News about the coronavirus's effects on children, both claiming the content violated their respective policies on COVID-19 misinformation. Conservative leaders have responded that this is yet another case of Big Tech's accelerated use of their power to rig the election. Meanwhile, liberals contend that these crackdowns on the president's speech are sorely needed.
Hall quickly moved to victim mode, declaring that "Conservative commentators were incensed by Big Tech's overreach in censoring the president's commentary on a disease whose nature is hotly debated.
Jeffrey Lord tried to spin things in an Aug. 8 post, citing studies showing children have a lower rate of infection than adults to claim Trump is right and the fact-checkers are wrong: "When will Facebook and Twitter block The Washington Post, Time magazine and the BBC from posting what Twitter labeled 'misinformation"' on their sites? Is there any punishment looming?"
The MRC still wasn't letting it go in an Aug. 13 post, in which Kayla Sargent got mad at Facebook's voter tool, then got doubly mad when it stated the tool is "based on lessons from our COVID-19 Information Center, which has been providing accurate and authoritative information from health authorities about the pandemic since March." She huffed: "Considering the fact that Facebook recently removed a video of President Donald Trump discussing the effects of COVID-19 on children, and removed a video of doctors discussing hydroxychloroquine as a treatment for the virus, conservatives may want to exercise caution when analyzing Facebook's new tool."
Sargent didn't tell her readers that, as we documented, that video from "America's Frontline Doctors" talking about coronavirus included numerous false and misleading claims, not just the dubious claim that hydrochloroquine is an effective treatment.
Posted by Terry K. at 10:31 PM EDT
Updated: Monday, September 7, 2020 11:04 PM EDT