CNS Censors Bad News About Another Official It Touted
Topic: CNSNews.com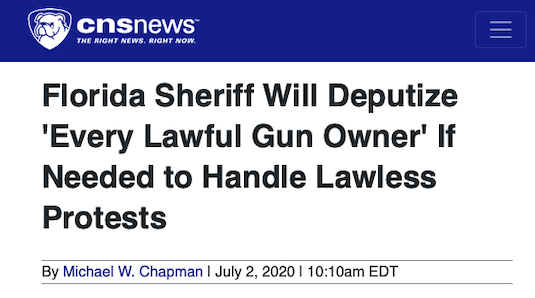 CNSNews.com loves to censor negative information about people it promotes, such as Candace Owens or Marjorie Taylor Greene. Add another one to the list.
Mnaging editor Michael W. Chapman wrote in a July 2 article:
Florida Sheriff Darryl Daniels criticized the liberal media for misrepresenting law enforcement as the "enemy," and pledged that if radical protesters become overwhelming, he will "make special deputies of every lawful gun owner" in the county to ensure the civil order.

"That's what we're sworn to do, and that's what we're gonna do," he said. "You've been warned."
Chapman then transcribe the entirety of a video Daniels made that "explains his office's approach to the radical protests being perpetrated in the United States in recent times."
That attention to detail from Chapman, however, didn't extend to reporting on the scandal Daniels embroiled himself in. As an actual news outlet reported:
Darryl Daniels, the sheriff of Clay County, Fla., dialed his deputy from the quiet suburban road with an urgent plea for backup: He was being followed by a stalker in a Jeep and appeared to be in "imminent danger."

But Daniels knew exactly who was behind him on that day in May 2019, prosecutors say: It was Cierra Smith, his former employee and mistress of six years, on her way to meet him at their regular spot. Filming the whole thing was his wife, to whom he had recently confessed the affair.

Now, Smith has resigned from her job, Daniels's wife has filed for divorce, and the sheriff is the one who ended up behind bars. On Thursday, following a year-long investigation, Florida authorities filed four charges against him and booked him into jail.
After that was revealed, the Florida governor removed Daniels from his post, and he lost his bid for re-election.
Yet all this wasn't considered newsworthy to Chapman -- presumably because he presented himself as a Trump-esque law-and-order type and Chapman doesn't want to shatter the illusion.
Posted by Terry K. at 1:41 AM EDT