CNS Does Damage Control For Parler
Topic: CNSNews.com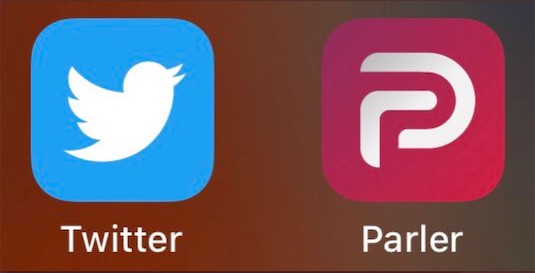 We can't prove there's a link, but it does seem a bit odd that just a few days after we detailed how the Media Research Center has embraced Parler as a "free speech" Twitter alternative even though it too has odd restrictions on speech and is turning into a right-wing echo chamber, the MRC's "news" division, CNSNews.com, went into damage-control mode.
An Aug. 5 CNS article featured an interview Rob Shimshock -- CNS' commentary editor, by the way, not an actual reporter -- conducted with Parler's CEO. It sure reads like damage control:
John Matze, CEO of social media company Parler, committed not to ban users for "hate speech," stated that his company would fix an "awkward" "fighting words" clause in its community guidelines, and called the decision by Big Tech companies to censor the America's Frontline Doctors video "ridiculous," in an exclusive interview with CNSNews.com.

"We refuse to ban people on something so arbitrary that it can't be defined," Matze said when asked whether Parler has banned or ever will ban users for "hate speech." "You see these sites trying to enforce these arbitrary rules and you notice that people are getting kicked off for the most random and arbitrary things like misgendering people. It's absurd. So no, we won't be pursuing that policy."

The Parler CEO also commented on the subjective nature of the "Fighting Words or Threats to Harm" portion of the company's community guidelines, which, as of press time, gives as an example "any direct and very personal insult with the intention of stirring and upsetting the recipient—i.e., words that would lead to violence if you were to speak in that fashion in person."

"We just hired a chief policy officer who's a real lawyer," Matze said. "She's actually overhauling that specific clause that you brought up because she said it's a really awkward clause to have online....Our goal here is to maximize free speech, maximize online discussion, while maintaining an actual community feel."

[...]

The Parler CEO discussed with CNSNews a variety of other topics, including the platform's content moderation system, its recent growth from 1 million to 3.3 million users, its plan to implement a "groups" feature, the dropping of an indemnification clause in its user agreement, and the company's plans to combat other kinds of tech censorship.
Shimshock makes sure to gloss over the fact that Parler is only now having a "real lawyer" review its policies doesn't exactly inspire confidence in the company, as does its walking back of certain policies that contradict its reputation in right-wing media as a "free speech" platform, like not allowing users to sue Parler and forcing users to pay Parler's legal fees.
Shimshock also pushed the false idea that the only reason the America's Frontline Doctors video was taken down by other social media sites was because "a doctor posited [hydroxychloroquine] as a cure for the coronavirus." In fact, the video included several other pieces of false or misleading information; as one actual doctor summarized, video participants claimed "that there is no need for masks, and that schools can open right away without any effect on viral spread. In addition, they continue promoting the false claim that this virus is less deadly than the flu, and that tracking its spread and numbers is unimportant."
Posted by Terry K. at 3:02 PM EDT