MRC Embraces QAnon To Own The Libs
Topic: Media Research Center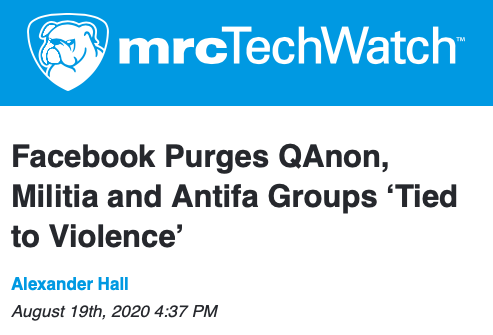 We've already caught the Media Research Center siding with far-right extremists at Reddit because they claim to be pro-Trump, whitewashing their hate and endorsement of violence as being merely "politically incorrect." The MRC is finding more extreme right-wingers to defend.
In a July 20 post, Duncan Schroeder complained about how CNN analyst John Avlon "hypocritically accused the Republican Party of promoting extremism and conspiracy theories through discussing the QAnon conspiracy theory." Rather than concede that QAnon followers are pretty extreme, Schroeder shifted into whataboutism mode, ranting that "CNN has promoted multiple "nonsense" conspiracy theories about Trump," declaring that "If Avlon was not a Democratic hack, he would discuss how Democrats have directly pushed misinformation and conspiracy theories," and whining that "CNN was also involved with awarding the bogus 1619 Project a Pulitzer," which he declared to be "leftist fan fiction."
Schroeder's ranting was not done: He concluded by ranting, "CNN has become an enabler of dangerous, radical, far-left extremism, but will hide that fact by attacking a few extreme right wingers. Facts do not matter for the network, it has an election to win."
That's a rant written by someone who feels like he has an election to win -- and his silence about QAnon speaks volumes.
Two days later, Alexander Hall had a sad that QAnon-related accounts were deleted by Twitter. He actively downplayed their extremism, declaring these deleted accounts to be "pro-Trump":
Twitter declares war on QAnon theorists! Thousands of Pro-Trump accounts have been purged as Twitter targets theorists on the right while ignoring radicals on the left.

"We've been clear that we will take strong enforcement action on behavior that has the potential to lead to offline harm," Twitter declared in a July 21 post. It specified that "this week we are taking further action on so-called 'QAnon' activity across the service." A Twitter spokesperson told NBC News that around "150,000 accounts" will be affected in one form or another. The same article explained that the company has removed 7,000 QAnon accounts in the past few weeks for allegedly breaking Terms of Service rules about targeted harassment.

Twitter wrote that, going forward: "We will permanently suspend accounts Tweeting about these topics." The company made clear that it will "[n]o longer serve content and accounts associated with QAnon in Trends and recommendations." It will even "Block URLs associated with QAnon from being shared on Twitter."
The closest Hall got to noting what QAnon actually does is repeating a New York Times description of the "ideology" of the group as being that Trump "ran for office to save Americans from a so-called deep state filled with child-abusing, devil-worshiping bureaucrats." Hall censored the Times' further description of QAnon's extremism and serial harassment of their targets, regarding how they believe that "the president's enemies are prominent Democrats who, in some telling, extract hormones from children's blood" and their link to the Pizzagate conspiracy theory, which led to a "vigilante gunman" showing up at a Washington, D.C., pizzeria and firing an assault rifle inside it.
Instead, Hall went the whataboutism route, complaining that "The presence of far-left extremists like Antifa groups is strangely tolerated online" while not presenting any compelling evidence that they are.
Posted by Terry K. at 10:28 AM EDT