CNS Bizarrely Fixated On Political Opinions Of Bette Midler, Cher
Topic: CNSNews.com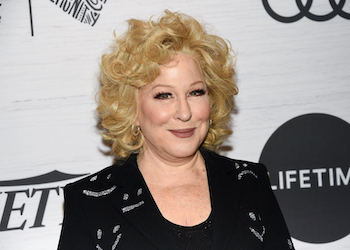 As much as CNSNews.com loves to post article after fawning article about Mark Levin, it also engages in hate-posting -- writing about people's opinions of people it despises for the purpose of holding them up for ridicule for its right-wing audience. For reasons so far unexplained, the chief recipient of that is entertainer Bette Midler.
Since February, CNS has posted a whopping 29 articles on Midler opining on things political -- 20 of which have appeared since June:
Lest it wasn't clear that the goal here is to attack Midler's views, an Aug. 26 article by Susan Jones omplained that "leftist celebrity Bette Midler was particiularly vicious" in responding to a speech by Melania Trump at the Republican National Convention.
That's a lot of digital ink to spill on a relatively minor celebrity.
The vast majority of these Midler post are anonymously written, carrying only the byline of "CNSNews.com Staff." But a quirk of CNS' search engine shows the content managment system account from which articles are placed, and the anonymous Midler posts are almost all being posted from the account of editor in chief Terry Jeffrey.
Strangely, Midler isn't the only past-her-prime liberal celebrity CNS has fixated on in recent months Since April, CNS has posted 14 articles on the political opinions of Cher:
Again, most of these pieces are anonymously written but come from Jeffrey's account. His goal here appears more toward straight ridicule by featuring her random capitalization and penchant for substituting numbets for words in the headline, even though those are common across Twitter and social media. And, again, there's no explanation of why CNS cares so much about Cher's political opinions.
That's a bizarre fixation you got there, Mr. Jeffrey.
Posted by Terry K. at 12:25 PM EDT