MRC Uses CBS Report To Bash Mail-In Voting, Just Like Trump Wants
Topic: Media Research Center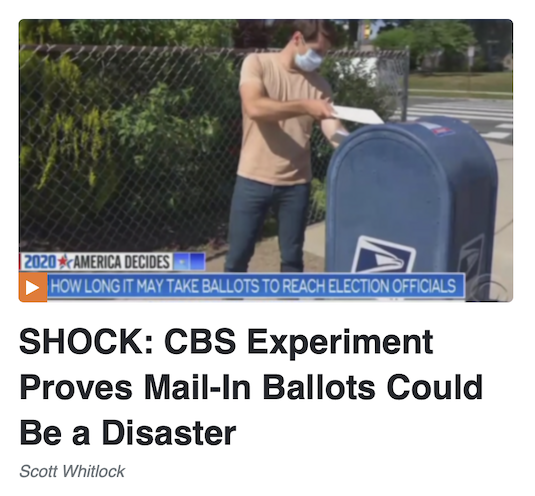 The Media Research Center's Scott Whitlock found something he thought he could turn into a right-wing talking point in a July 31 post:
This isn't something you see often on network television. CBS on Sunday did an experiment to determine just how safe mail-in ballots will be in November. CBS Weekend News journalist Tony Dokoupil set up a campaign "headquarters" and mailed 100 "ballots" to himself through the U.S. Post Office. The results were not encouraging. They also refute the dismissive tone of other journalists when covering Donald Trump's concerns about mail-in voting.

[...]

Former Arizona election official Tammy Patrick concluded that mail in voting is "setting up the voters with false expectations and you're setting them up to fail."

Yet, journalists constantly mock this idea. On July 26, This Week host George Stephanopoulos lectured White House Chief of Staff Mark Meadows: "The President continues to warn that it's gonna be rigged, that his word, by mail-in ballots, even though there's no compelling evidence that mail-in ballots are tied to widespread voter fraud."
The MRC repeatedly invoked this CBS story, largely to defend President Trump's attacks on mail-in voting:
But as Media Matters pointed out, the CBS segment omitted one important fact: the high rate of delay ballots in the experiment were driven by changes to the U.S. Postal Service that have taken place during Trump's presidency. And the MRC wasn't the only right-wing media operation to exploit it; others seized on the report as an excuse to attack the Postal Service and discorage mail-in voting, both of which are agenda items for Trump's re-election campaign.
It's almost as if the MRC is an arm of the Trump campaign. Doesn't that violate its nonprofit status?
Posted by Terry K. at 2:38 PM EDT