MRC Hypocritically Blames 'Sexism' For Criticism of GOP Congresswoman
Topic: Media Research Center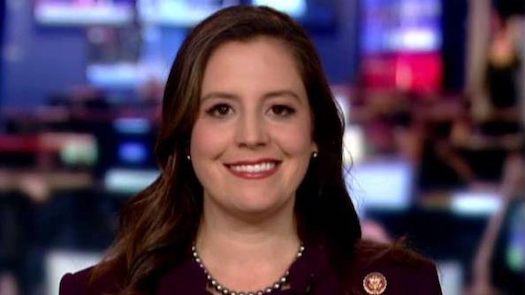 The Media Research Center typically mocks and denounces claims of sexism. For instance, a Nov. 4 post by Lindsay Kornick complained that the TV series "For All Mankind" decided to "highlight how sexist NASA members can be and force a feminist angle," then a few days later whined that the show "continues to push its feminist agenda by dragging NASA as male-driven and sexist. What isn't sexist to TV writers these days?"
What's "sexist" to MRC writers these days is when a female Republican politician gets criticized, and they're not afraid to hypocritically exploit the allegation.
Republican Rep. Elise Stefanik pulled stunts during the impeachment hearings such as violating hearing rules by attempting to question witnesses at a time when she was not permitted to do so then falsely playing the victim after criticism of it -- and the MRC was more than happy to pump up her victimhood. A Nov. 13 post by Curtis Houck complained:
Former Bush official-turned-liberal-turned-ABC News chief political analyst-turned-special correspondent Matthew Dowd found himself in hot water on Wednesday after the first set of impeachment hearings, tweeting a sexist attack against Congresswoman Elise Stefanik (R-NY). Why? Well, it turned out he didn't like her questioning.

And taking a page out of the Hillary Clinton playbook, Dowd's apologies amounted to him expressing dismay and apologized that people thought that he was being sexist when, in his mind, he wasn't.
Dowd's remark was not particularly sexist -- he called Stefanik "a perfect example of why just electing someone because they are a woman or a millennial doesn't necessarily get you the leaders we need" -- but it was sexist enough for Houck to exploit, though he would never find a similarly worded tweet aimed at, say, Alexandria Ocasio-Cortez to be similarly offensive to him.
Houck dropped the S-word again in a Nov. 18 post when he found another Stefanik-related tweet to get offended by:
On Saturday afternoon, Never Trump attorney and liberal cable news darling George Conway leveled sexist attacks at Congresswoman Elise Stefanik (R-NY) on Twitter for being against impeachment and tussling with fellow media favorite and Congressman Adam Schiff (D-CA), calling her "lying trash" and sharing a doctored photo of her flipping off a camera.

[...]

Of course, CNN did nothing to rebut or even acknowledge these attacks on-air. Their reason? To go out on a limb, they might have seen nothing wrong with that level of sexism and peddling of fake news.
Houck never explained why Conway calling Stefanik "lying trash" is enherently "sexist," even though she did lie by claiming victimhood after getting called out for violating hearing rules, which was apparently what Conway was pointing out. Nor does Houck disprove Conway's assertion that Stefanik is a liar.
Houck also addressed the doctored photo of Stefanik flipping off a camera that Conway had retweeted, complaining that "former Ted Cruz aide-turned-Never Trumper-turned-liberal CNN political commentator Amanda Carpenter" was "smearing Stefanik by arguing that the fake photos seemed credible to her," asserting that her philosophy was "if it rings true, it is true!"
Funny, that's the exact approach Houck and other MRC writers have taken in the case of a charge the MRC heavily promoted in 2017 that a high school student was raped by an undocumented immigrant. When it turned out that prosecutors dropped the rape charges citing inconsistencies and lack of corroboration, the MRC covered for their lack of due diligence in hyping the bogus story, with Houck trying to distract from the fact that they got it wrong and Nicholas Fondacaro justified the false hype by insisting that "at the time of the original story, there was little evidence that the charges wouldn't stick."
In other words, in the eyes of the MRC's immigrant-hating writers, the story rung true, so it was true -- and they never apologized for pushing a bogus story when the truth came out. Which makes Houck's attempt to shame Carpenter more than a little hypocritical.
Posted by Terry K. at 5:42 PM EST