MRC's Most Dishonest 'Study' Yet
Topic: Media Research Center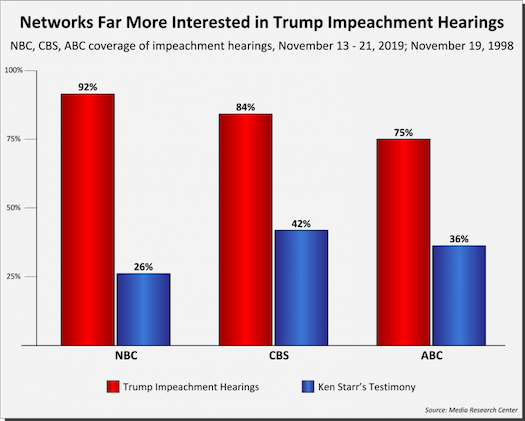 The Media Research Center is known for its highly biased "studies" of media coverage. It may have outdone itself with its latest one. Bill D'Agostino huffed in a Nov. 25 post:
Broadcast networks NBC, CBS, and ABC have donated 75 hours of free air time to Democrats' impeachment hearings, despite notably poor (and consistently shrinking) ratings. Yet during President Clinton's impeachment, these same networks could not be bothered to carry more than a few hours of independent counsel Ken Starr's one-day presentation of the evidence against Clinton on November 19, 1998.

NBC's live coverage during the hearings amounted to a whopping 92 percent (1,653 minutes, or 27.5 hours) of the total 30 hours of testimony. CBS ran special coverage for 84 percent of the hearings (1,517 minutes, or 25 hours), while ABC broadcast 75 percent (1,358 minutes, or 22.5 hours). These numbers reflect the coverage on network-affiliated stations in the Washington, D.C. area.

By contrast back in November of 1998, NBC aired a paltry 26 percent (194 minutes) of Starr's 12.5 hours of testimony on Capitol Hill. CBS covered 42 percent of the hearing (314 minutes), while ABC broadcast 36 percent (272 minutes).

Over the past two weeks, broadcast networks bumped hours of regularly scheduled programming for hearings featuring 12 hitherto unheard of witnesses, many of whom had never even spoken to President Trump. Yet these networks were reluctant to cover Starr's testimony back in 1998, even though that hearing relied on a single well-known witness with intimate knowledge of all the evidence being presented.
That's right -- the MRC is dishonestly comparing several days of Trump impeachment hearing coverage to a single day of testimony by the chief anti-Clinton antagonist.
Note that D'Agostino also invoked the MRC narrative of dismissing the hearings because of their allegedly low ratings; he reinforced the narrative by claiming that "the hearings these past two weeks have had consistently poor viewership, and the number of Americans tuning each day has been shrinking." In fact, the hearings attracted millions of viewers when counting all outlets that aired them, and NBC -- whose coverage D'Agostino attacked for drawing "even fewer eyes ... than an average Days of Our Lives episode" -- actually drew more viewers than Fox News in the coveted demographic of viewers age 25 to 54. Nevertheless, he insisted: "It would appear President Trump's election has rendered broadcast networks incapable of understanding what interests their own audiences.
D'Agostino also unironically complained about the Clinton hearings being described as having low ratings, to the point that individual affiliates broke away for their own local programming.
Posted by Terry K. at 9:29 PM EST
Updated: Tuesday, December 10, 2019 9:32 PM EST