The MRC's Drag Queen Freakouts
Topic: Media Research Center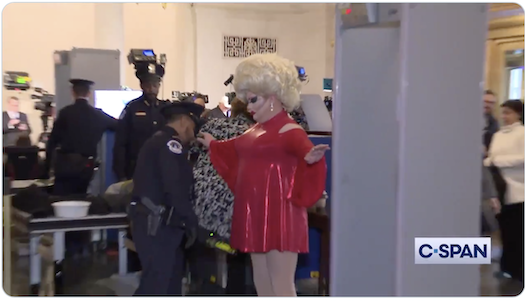 The Media Research Center's loathing of drag queens is so intense that even WorldNetDaily loves to rehash its lies about them. We've noted how the MRC got triggered over a drag queen in the audience at a congressional impeachment hearing, but that's far from the only freakout its writers have had lately.
On Nov. 12, Matt Philbin had a drag-queen meltdown:
Are you comfortable with mentally disturbed men hanging around the kids section of the local library? How do you stand on dudes with 5 o'clock shadow dressed in lingerie reading to five-year-olds? If you're a Spokane, Washington resident, you better be okay with it, or you're a "religious extremist," and just may find yourself sold in effigy at a slave auction to benefit America's largest abortion mill.

A group called "Spokane United Against Religious Extremism," doesn't take kindly to people speaking out against the new sacrosanct civic ritual known as Drag Queen Story Hour. In a drag bar fundraising event to benefit Planned Parenthood, "drag queen performers ... mocked pro-life activists and local Christian pastors by auctioning off cardboard cutouts of their faces, mimicking a slave-style auction," according to CBN.
If you so filled with hate that think that drag queens can only be seen as "mentally disturbed men" and "dudes with 5 o'clock shadow dressed in lingerie,"and you think CBN is a reliable, objective source of news, then perhaps you expect a little mockery to come your way.
In their Nov. 30 column, Tim Graham and Brent Bozell sneered at the American Music Awards, where "Kesha brought along the rapper Big Freedia, a deep-voiced gay male who dresses like a drag queen and uses she/her pronouns."
In a Dec. 11 post, Julie Mitchell ranted at the mere idea of drag queens doing a Christmas song:
When Christmastime comes around, many people find themselves reminiscing on traditional songs, like "We Three Queens," and "All I Want For Christmas Is Nudes." Well, maybe not many people … probably just ridiculous wackos who want to pervert Christmas, all of its traditions, and tear it from its roots in Christianity -- like the left and the LGBTQ+ movement promoting woke, drag queen remakes of holiday classics!

In the spirit of woke Christmas, Billboard recommends tarted up versions of holiday classics -- featuring drag queens. Chris Malone writes, "Drag queens may not be the first thing that comes to mind when thinking about Christmas, but make no mistake: just because they own Halloween doesn't mean they aren't one of the best parts of the holiday season, too."

Yes, drag queens are one of the best parts of the holiday season … if you really dislike the traditional holiday season.

[...]

Perhaps the most striking thing about these holiday remakes is that drag queens solely and selfishly promote themselves, the exact opposite of what Christmas is about: celebrating the birth of Jesus and being grateful for loved ones. Praising men who twerk in wigs and dresses is wildly contrary to Christmas and its traditions.
So is ranting about people who don't celebrate Christmas the way you demand that they should, but Mitchell won't talk about that.
Posted by Terry K. at 5:35 PM EST
Updated: Thursday, December 19, 2019 5:36 PM EST