MRC Still Won't Talk About Conservative Revenge Porn In Katie Hill Scandal
Topic: Media Research Center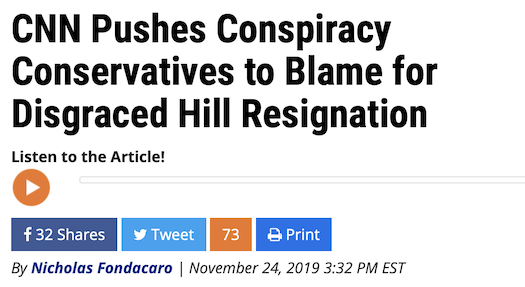 We've documented how the Media Research Center was so in favor of forcing out Democratic Rep. Katie Hill for ethical violations involving an affair with a member of her staff that it effectively approved the revenge-porn aspect of the scandal, in which conservative websites RedState and the Daily Mail published nude photos of Hill. It's now moved on to actively denying the revenge-porn angle.
Nicholas Fondacaro complained in a Nov. 25 item:
On Sunday's no-so "Reliable Sources," CNN host Brian Stelter helped to defend disgraced former Congresswoman Katie Hill by lying about why she had to resign from office at the end of last month.

"Well, former California Congresswoman Katie Hill is remaining very visible and she's speaking out against what she calls right-wing media smears. Hill resigned at the end of October after admitting she had an inappropriate relationship with a campaign staffer before coming into office," he claimed.

It was just another excuse for him to attack "right-wing media." "The story came to light after a Conservative blog called RedState release intimate photos of Hill with an unnamed female campaign staffer and made other allegations against her. Then, The Daily Mail piled on with other photos as well," he whined.

He intentionally omitted a key fact from his crash course summary of the events. One of the "other allegations made against her" was that she was sleeping with one of her congressional staffers, which was against House ethics rules.
Beyond his quoting of Stelter, Fondacaro refused to address the revenge-porn aspect further.
Scott Whitlock did much the same thing in a Dec. 9 post:
Good Morning America on Monday spun Katie Hill, a California Democrat who resigned in the wake of a bizarre sex scandal, as a victim of bullying. The story by reporter Linsey Davis never mentioned her political affiliation and tried to mislead viewers into believing Hill was smeared.

Hill resigned after nude pictures of her appeared online, some with what appeared to feature a World War II Nazi-era tattoo. She admitted to an affair with a campaign staffer, but denied a relationship with a congressional staffer. Yet, Davis left out the first part, portaying Hill as the victim: "The one-time rising political star says she contemplated suicide after nude photos of her surfaced online along with allegations she had an improper relationship with a congressional staffer, which she denies."
Whitlock didn't address how, exactly, those nude photos of Hill "appeared online" -- because they were published by conservative websites. Whitlock actively tried to hide that fact; his link on the words "World War II Nazi-era tattoo" (because that was even more scandalous than the nude photos for the selective prudes at the MRC) went to celebrity gossip site Uproxx -- which, in turn, cited the Daily Mail.
If the MRC refuses to discuss the conservative-fueled revenge porn aspect of the Hill scandal out of fear of violating organization standards against criticizing fellow conservatives and/or needing a way to own the libs, having an honest conservation about it is impossible.
Posted by Terry K. at 3:24 PM EST