MRC's Double Standard On Politician Health Conspiracy Theories
Topic: Media Research Center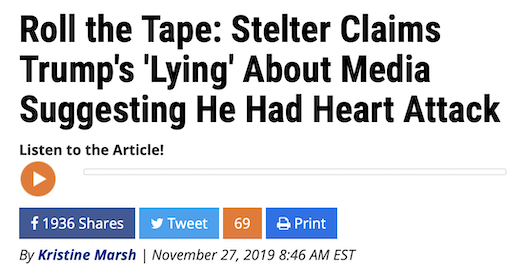 The Media Research Center's Kristine Marsh complained in a Nov. 27 post:
Tuesday night at a rally, President Trump blasted the media for spreading rumors about his health, specifically that he may have had a heart attack recently. CNN host Brian Stelter shot back at the President on Twitter, claiming he was "lying" and the media never did that. Perhaps Stelter should see a doctor for memory problems because he did this very thing just 3 days ago.

At a rally Trump railed against the media for suggesting he'd had a "massive, unbelievable heart attack." Reliable Sources host Brian Stelter took to Twitter to deny this accusation before sneering at the President's "strange lie:"

[...]

However the media DID run conspiracy theories about the President's health recently, gossipping he may have had a heart attack, without any proof or reason to. Brian Stelter himself did two segments on this very topic!

[...]

Compared to in 2016 when Stelter warned the media, "Do Not Give Oxygen To "Conspiracy Theories" That Hillary Clinton Is "Secretly Ill," despite her strange medical episode being caught on tape. On CNN, Stelter blamed attention on Clinton's health as sexist.
Marsh is mildly misquoting what Trump said. He did not say the media "suggested" he had a heart attack; he said the media reported it -- not the same thing. And Marsh is totally lying that some in the media (not the entire media, as she claimed) had no "reason to" speculate about Trump's health after a surprise visit to Walter Reed Medical Center; given Trump's lengthy record of lying to the American people, there's no reason to take anything that comes out of his White House at face value, and speculation is a given.
Marsh also hides a double standard: The MRC justified -- and added to -- speculation about Hillary Clinton's health in 2016. The link she provided to prove that Stelter said speculation about her health was sexist went to a Curtis Houck post that also pushed the conspiracy theory that her having "admitted to not remembering a whole host of important details in her July 2 FBI interview about her e-mail scandal" was a legitimate reason to speculate about her health, and thar refusal to speculate was, according to Houck, "the latest and most despicable example of the media covering for a liberal."
As we also documented at the time, MRC blogger Jeffrey Lord declared that a long-ago book claiming that Hillary had trouble keeping up with her energetic husband, Bill Clinton, in the early days of his presidency was somehow evidence that she "would have even more stamina problems a full 23 years later" and, thus, justified speculation about her health.
So, yeah, the MRC is once again being hypocritical. So what else is new?
Posted by Terry K. at 2:18 PM EST