AIM Obsesses Over Alleged Bias At Obscure Media Outlet
Topic: Accuracy in Media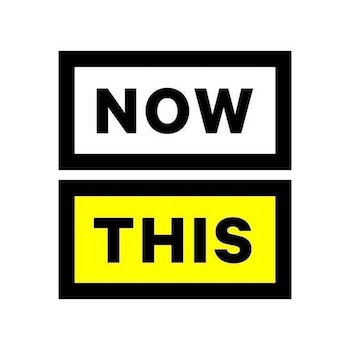 For some reason, Accuracy in Media has been targeting NowThis News, an obscure media outlet, doing several posts on its alleged bias over the past couple months alone. And, as ever, it has trouble with the whole media-watchdogging thing.
In a Nov. 21 post, Spencer Irvine -- grandson of AIM founder Reed Irvine and son of current AIM publisher Don Irvine -- asserted that calling abortions "safe and legal," which NowThis did in an article, "can be interpreted as a partisan stance," never mind that it can also be interpreted as an objectively true statement. He then lectured: "News media should not endorse, implicitly or explicitly, political views, stances, or opinions. NowThis News took a blatant political stance and yet portrayed itself as a neutral and trustworthy news source." Never mind that NowThis hasn't exactly hidden the fact that it's a progressive-leaning outlet.
We don't recall AIM complaining that any conservative media outlet "took a blatant political stance" on an issue, or that Fox News falsely "portrayed itself as a neutral and trustworthy news source" with its "fair and balanced" slogan.
Irvine attacked NowThis again in a Dec. 2 post attacking the outlet for calling out President Trump's falsehood that 14 million jobs have been created during his presidency. Irvine not only tried to spin the numbers but also the fact that Trump lies a lot:
It is common knowledge that Trump tends to embellish the facts in public speeches, but NowThis News criticized Trump for the embellishment. It also included a tweet from a Vox journalist who called Trump's remarks "absurd," despite that Vox Media is far from a neutral source of news and analysis.

NowThis compared Trump's job creation numbers to Obama's and claimed that the Trump-led economy "created fewer than 6 million jobs since Trump has taken office." The article claimed that this was "less than what Obama created when he was in office," and cited a Forbes article to support that claim. However, the link that NowThis News used was a broken link and the information in the Forbes article cannot be verified.

Upon further investigation, a different Forbes article pointed out that Obama created one million more jobs than Trump has at this point in the presidency, which is a significant difference. However, both Forbes and NowThis News did not take into account consumer confidence and how the U.S. economy got back on track after Trump's election.
Irvine complained once more in a Dec. 5 post about an allegedly biased NowThis article on the impeachment hearings: "The lack of ideological balance, in addition to the partisanship and favoritism toward Democratic lawmakers and their witnesses in this recap article, illustrated NowThis News's political bias and how it should tell its readers that it is a partisan news source, not an unbiased one." Again, Irvine did not hold conservative media outlets similarly accountable for their lack of balance.
Carrie Sheffield did the NowThis-bashing -- and Trump-defending -- honors in a Dec. 11 post:
NowThis News' impeachment coverage omitted key facts about diplomats' testimony on Capitol Hill, leaving false anti-Trump impressions for its readers.

"Trump and many in the GOP have called the inquiry a 'sham' despite the testimony of multiple career diplomats that Trump offered a quid pro quo to the president of Ukraine to investigate unfounded claims against Biden," wrote NowThis' Christina Cocca.

Cocca failed to mention that House Democrats based their calls for impeachment on assumptions, presumptions, and speculation from witnesses who had no interaction with the President. None of the diplomatic witnesses during the impeachment hearings had any firsthand knowledge or evidence of wrongdoing by the President.

Most of their witnesses never spoke with Trump or weren't even involved in the events at hand. Only two people actually asked the president about this – Ambassador Gordon Sondland and Sen. Ron Johnson, and the President told both of them he was not seeking any quid pro quo.
If only AIM cared this much about the accuracy of conservative media.
Posted by Terry K. at 9:26 PM EST