MRC Has A 'Moderate' Labeling Meltdown
Topic: Media Research Center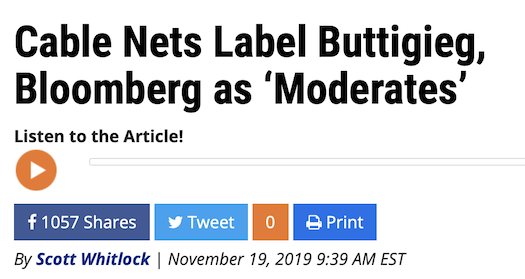 As we've noted, the Media Research Center loves to sloppily label anything remotely liberal as "far-left" without justification (aside from the fact that from its distorted right-wing vantage point, it probably seems that way). But it gets even more offended when a Democrat is described as anything less than "far-left."
Scott Whitlock complained in a Nov. 8 item (bolding in original):
CBS This Morning on Friday pushed the fantasy that the 2020 Democratic field somehow contains several "moderate" or "centrist" candidates, rather than far-left liberals. It started in the 7am hour when reporter Ed O'Keefe reflected on Michael Bloomberg potentially joining the race: "But recent polling shows Biden is slipping behind Elizabeth Warren and Bernie Sanders and moderate Indiana Mayor Pete Buttigieg."

Moderate? Buttigieg is radically pro-abortion. He's pro-gun control and wants to pack the Supreme Court in order to protect Roe v. Wade. Where is he "moderate?" Later in the show, correspondent Margaret Brennan cheered the entry of Bloomberg: "He's in some ways, though, splitting possibly a vote with Joe Biden, maybe helping the center, that center moderate Democrat have another voice."

Biden? The former Vice President and Senator is certainly a liberal. His lifetime American Conservative Union score is 12 and the Democrat has drifted farther left as the years go by.
Whitlock concluded by huffing, "The liberal media want you to believe that a field of far-left Democrats actually has some secret 'centrists.'" There's that gratuitous "far-left" mislabeling again.
So offended was Whitlock by this concept that he even went after Fox News -- who nomrally gets a pass from the MRC no matter how biased it gets -- for doing something similar in a Nov. 19 post (again, bolding in original):
MSNBC and Fox on Monday pushed the idea that Mayor Pete Buttigieg is a moderate. However, the facts simply don't back this up when it comes to the 2020 presidential candidate. In fact, Fox's Harris Faulkner even lumped in the radically pro-gun control Michael Bloomberg as another "moderate," saying: "After months of watching the Democratic Party move farther to the left, moderates are now looking to regain control of the 2020 race. But can two new candidates and Pete Buttigieg's recent rise change anything?"

Faulkner added, "Progressives like Senators Elizabeth Warren and Bernie Sanders are getting a lot of attention lately. However, moderates could be on the upswing. Former Massachusetts Governor Deval Patrick has jumped into the primary, and former New York City Mayor Michael Bloomberg potentially is launching a bid, as well."

Moderate? Buttigieg is radically pro-abortion. He's pro-gun control and wants to pack the Supreme Court in order to protect Roe v. Wade. Michael Bloomberg was a liberal New York City who is probably best known for his efforts to restrict the Second Amendment. How are any of these people moderate?
Whitlock did it again in a Nov. 25 post: "The three network morning shows on Monday hyped the entry of Michael Bloomberg into the 2020 race as a "moderate" who will take on other "moderates," Joe Biden and Pete Buttigieg. They also touted the ex-New York Mayor's former Republican status. ... In reality, Bloomberg is radially supportive of restricting the Second Amendment and who supports abortion." Nicholas Fondacaro chimed in as well the same day, complaining that one show "falsely labeled [Bloomberg] a 'moderate.'"
Clay Waters joined the narrative in a Nov. 27 post attacking the New York Times for using the M-word:
It's bad enough that the Times is labeling Buttigieg and Bloomberg moderates, although there is at least the thin excuse that there are no hard-and fast metrics for measuring just how liberal those two former mayors are. But the American Conservative Union has long kept up with the ideological voting records of congressmen, and former Sen. Kerry as of 2004 had earned a lifetime rating of 5.18 out of a possible 100. No "staid moderate," just a true-blue Massachusetts liberal.
But Waters and Whitlock invoked the ACU voting record, but they didn't explain how, exactly, that score is a reliable indicator of one's place on the ideological spectrum.
Kristine Marsh had a related "moderate" meltdown in a Nov. 18 post:
It seems anyone to the right of Karl Marx is considered a "moderate" in today's Democrat [sic] party. On ABC's The View Monday, the hosts were discussing a new Iowa poll out this weekend that showed a significant bump for South Bend Mayor Pete Buttigieg in the 2020 race. Co-host Joy Behar claimed he was rising in the polls because he was a "moderate" Democrat, who was "fresh, new and gay" but also in a "traditional" same-sex marriage. What?

[...]

The far-left in the media are constantly trying to make radical Democrats appear rational and mainstream. From the very beginning, Buttigieg has advocated far left positions on guns, health care and suggested he supports abortion until birth. Yet the media has consistently downplayed his liberal policies by calling him a "moderate."
The MRC's complaints about labeling might be taken more seriously if their own labeling of anything remotely to the left of the MRC wasn't so sloppy and out of whack.
Posted by Terry K. at 2:37 PM EST