MRC Tries To Prop Up GOP's Ukraine Conspiracy Theory
Topic: Media Research Center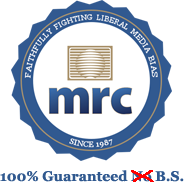 Just like its "news" division CNSNews.com, the Media Research Center proper has been pushing pro-Trump talking points on the Ukraine scandal and impeachment hearings. So dedicated to those talking points is the MRC, in fact, that it's even pushing the conspiracy theory pushed by Trump and other Republicans that Ukraine meddled as much, if not more, in the 2016 U.S. presidential election as Russia did.
Nicholas Fondacaro lectured in a Nov. 21 item:
But it wasn't an "unfounded" "conspiracy theory" as they would like you to believe. According to then-Politico reporters David Stern and Ken Vogel, "Donald Trump wasn't the only presidential candidate whose campaign was boosted by officials of a former Soviet bloc country."

[...]

Their reporting also found that Ukraine's influence did have consequences. "The Ukrainian efforts had an impact in the race," they wrote, "helping to force Manafort's resignation and advancing the narrative that Trump's campaign was deeply connected to Ukraine's foe to the east, Russia."
But as we've pointed out, Ukranian officials' anti-Trump efforts were mostly limited to going after his campaign manager, Paul Manafort -- who later went to prison for bank and tax fraud regarding the millions of dollars he was paid for his work in Ukraine -- and an op-ed. There was none of the systematic disruption approved by the central government that Russia engaged in, and it's a lie to suggest otherwise.
Alex Christy huffed in a Nov. 25 post that "just because CrowdStrike is a conspiracy theory and that Russia did interfere, does not also mean Ukraine didn't," adding: "Second, it is simply not true that Republicans deny Russian interference in 2016 as all the congressional reports on the topic that came out in the aftermath of 2016 would have had to come out of Republican-controlled committees." But Republicans are falsely conflating what Ukraine did -- which was mostly limited to blogs and op-eds -- with the systematic meddling conducted by Russia.
(The admission that CrowdStrike is a conspiracy theory is a slight change of MRC policy; it has previously largely pretended that Trump wasn't pushing a conspiracy theory by referencing the idea CrowdStrike was stashing a hacked DNC server in Ukraine.)
And when Republican Rep. John Kennedy pushed the conspiracy theory on "Meet the Press," the MRC rushed to prop his claims up.
Curtis Houck followed up with a Dec. 2 post complaining that "CNN sided with Todd that Kennedy's a puppet for Vladimir Putin pushing "conspiracy theories" (which are true) about Ukraine and the 2016 election."
Houck also complained that "Borger invoked the tiresome piece of fake news about '17 intelligence agencies' having the same conclusion about Russia and 2016, which was ironic since she had just bemoaned that we're debating 'when is a fact a fact.'" He linked back to a 2018 MRC post on how "the liberal media screwed on Trump-Russia in 2017" to claim that "only three agencies (FBI, CIA and NSA) had reviewed the intelligence, which was then issued by a fourth, the Office of the Director of National Intelligence." But as an actual fact-checker pointed out, the Office of the DNI speaks on behalf of those 17 intelligence agencies, and none of those agencies has expressed disagreement with the conclusion.
Tim Graham huffed that "Sen. Kennedy acknowledged Russians were meddling, but just added Ukrainians were meddling, too. Todd repeatedly insisted that Kennedy was like a Russian agent for adding these inconvenient truths to the narrative." Graham refused to admit the inconvenient fact that nothing Ukraine did was on the scale of Russian meddling.
Posted by Terry K. at 6:26 PM EST
Updated: Thursday, December 12, 2019 7:40 PM EST