MRC's Double Standard On Surprise Presidential Military Visits
Topic: Media Research Center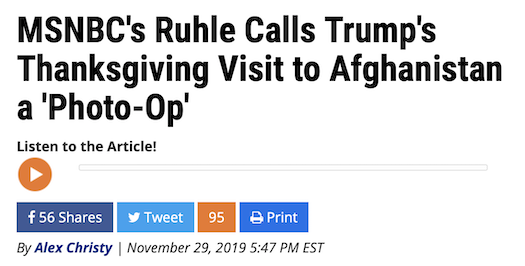 The Media Research Center's Alex Christy grumbled in a Nov. 29 post:
Surprise presidential visits to war zones to spend time with the troops during Thanksgiving or other holidays have become a bipartisan tradition that everyone can support. While most view such visits as a way to honor the troops and express amazement at the amount of planning and secrecy that goes into such trips, MSNBC Live host Stephanie Ruhle took Friday to call Trump's Thanksgiving visit to Afghanistan a "photo-op" and wonder that if he will plan more foreign visits as part of a strategy to counter impeachment.

Ruhle theorized that the trip was about the imagery of the presidency, "The imagery of the president standing there with troops behind him, the President literally, maybe he's watching, tweeted a bunch of photos from the trip. That's a big win for him."

She then asked Washington Post White House correspondent Anne Gearan, "Given the impeachment battle is going on, the president is under attack in all sorts of ways, are we going to see more overseas trips that give him these kind of photo-op scenarios?"
If you know anything about the MRC, you will not be surprised to learn that it dismissed a surprise military visit by a Democratic president as a stunt and did not view it as "a bipartisan tradition that everyone can support."
When President Obama paid a visit to Afghanistan on Memorial Day weekend in 2014, the MRC was angry that it was being reported on positively. Geoffrey Dickens suggested the visit was done as a distraction from "the VA scandal":
At the time when the country is remembering the ultimate sacrifice veterans have given this country ABC's (World News) evening and (Good Morning America) morning shows didn't devote a second to the VA scandal over this Memorial Day weekend. However, those shows did spend time on President Barack Obama receiving "cheers" during his surprise visit to Afghanistan.

[...]

On Sunday's World News ABC's David Muir reported on "that surprise this Sunday from President Obama, his visit to Afghanistan and our troops this Memorial Day weekend." Muir, teasing a Muhammad Lila report, continued: "The commander-in-chief received with cheers in that hangar at Bagram Airfield. And while there, he talked about how grateful Americans are back home for their service and about what should happen when those vets come home."

Receiving top-notch medical care was not mentioned as something that "should happen when those vets come home" in the ensuing Lila piece.
Jackie Seal, meanwhile, played whataboutism:
Eight months before the 2006 midterm election, President Bush made a "surprise" visit to Afghanistan. On the March 1, 2006 edition of the Today show, hosts Katie Couric and Matt Lauer made sure to paint Bush's visit as a publicity stunt due to his approval rating being at an "all-time low" and the controversy surrounding a bid by a United Arab Emirates-based company to run operations at various U.S. seaports. Couric touted it as an "important symbol." Kelly O'Donnell cited the visit with all its baggage as a "difficult stretch for the president."

At the time, the network insisted their viewers be absolutely clear about the president's approval rating and scandals bedeviling his administration back at home. Not only that, Today's coverage included a guest who argued that it was simply impossible to "divorce how the war is going with the perception of how President Bush is doing as president."

Fast-forward to 2014 with the barrage of scandals haunting President Obama including Benghazi, the IRS, continuing Obamacare woes, and of course most recently, the VA scandal. President Obama has had lower approval ratings but he is not incredibly popular and his party stands to face a drubbing in the November midterms. Yet the treatment by Today was wildly different.

[...]

The message was clear: President Obama is trying his darndest and ultimately it's not his fault that the VA is in such shambles. He's really trying his best to fix the "systemic" problem, after all. All that was missing was Juan Williams joining in to exclaim that the trip shows the president's going "overboard" in his support for our troops!

What a difference eight years and a Democratic commander-in-chief makes when it comes to reporting.
If it weren't for double standards, the MRC wouldn't have any standards at all.
Posted by Terry K. at 9:34 PM EST