MRC Loves It When 'South Park' Mocks Transgenders, Is Sad When It's Criticized For Doing So
Topic: Media Research Center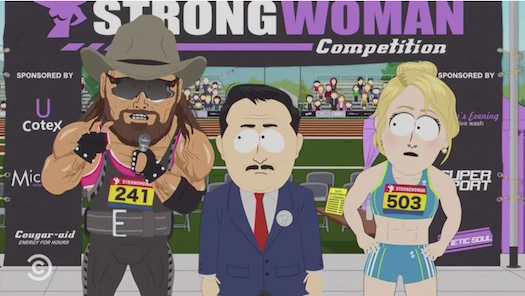 In a Nov. 13 post, the Media Reserach Center's Alexa Moutevelis gushed over how the TV show "South Park" mocked transgenders by how it "illustrated the absurdity of allowing men who identify as women into female athletic competitions, in a way only South Park can, in the episode titled 'Strong Woman,'" which featured "a trans athlete in the mold of former WWF wrestler Macho Man" entering a female strong-woman competition, and the women in the competition are told not to complain about because "you'll upset the PC babies." Moutevelis served up her own mocking at the end: "I can only imagine how the PC Babies will howl at this episode. You know how they are."
Moutevelis followed up that with a Nov. 21 post mocking one writer who claimed the episode descended into "the same tired old transphobic, homophobic, intentionally offensive gobbledygook":
Last week, South Park aired a classic episode that skewered the trans athlete phenomenon. But IndieWire author Jude Dry, whose pronouns are listed on Twitter as "they/them/theirs," was not amused.

Dry's IndieWire article this Wednesday hilariously claimed the episode "provoked an immediate and universal backlash," (only if backlash means laughter). The subtitle said, "Last week's episode provoked outcry by taking aim at transgender athletes, but the Comedy Central show has a long history of transphobia." The definition of transphobia apparently means to not immediately celebrate and accept anything a trans person says.

[...]

It's more that this author is humorless when it comes to certain hot button topics than that South Park is alienating viewers and yet Dry implies that creator Trey Parker is a bigot: "Parker's pandering plea that his viewers not see him as a bigot for writing such a lazy, charged, and dangerous script is so ridiculous it's almost laughable."

And this IndieWire article is so ridiculous it is absolutely laughable.
Apparently, transphobic, homophobic and intentionally offensive gobbledygook is what trips Moutevelis' humor trigger, so this particular brand of hate is OK with her.
On the other hand, Moutevelis is not so supportive of "South Park" when when it mocks her favorite president. In September, she and Sadi Martin complained that "The new season of South Park got back to its libertarian roots in ways many conservatives might not appreciate" when it focused on "illegal immigrant children being placed in detention centers" and engaged in "heavy-handed comparisons of the Jewish Holocaust to the current immigration crisis America faces today." Moutevalis and Martin concluded by lamenting, "South Park has always been at its best when it's subversively skewering the sacred cows of the left. Let's hope the rest of the season brings more of that and doesn't keep hitting us over the head with the same liberal talking points we hear everywhere else."
So, in Moutevelis' eyes, "South Park" is hilarious when it makes jokes about liberal causes, but painfully unfunny when it mocks conservative causes. Maybe she's the real "PC baby" here.
Posted by Terry K. at 3:01 PM EST