MRC Can't Deal With Impeachment Witness Demanding Fox News Apologize For Smearing Him
Topic: Media Research Center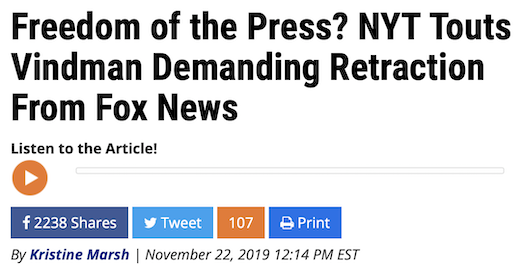 We've highlighted how the Media Research Center couldn't deal with Fox News hosts and guests being criticized for falsely smearing Lt. Col. Alexander Vindman as conducting "espionage" for Ukraine because he testified in the Trump impeachment hearings. Now it can't deal with the fact that he's demanding Fox News apologize for the lie.
The MC's Kristine Marsh complained in a Nov. 22 post:
The Democrats' star witness Tuesday for President Trump's impeachment hearing has threatened legal action if Fox News does not retract an opinion segment that was critical of him from a few weeks ago.

Lt. Col. Alexander Vindman sent a letter through his lawyer to the news network demanding a "retraction or correction" for an October 28 segment on Laura Ingraham's show. His lawyers charged FNC was "liable for punitive damages" for "false and defamatory allegations it published about LTC Vindman, knowing they were false." The letter also called out Donald Trump Jr. and FNC host Tucker Carlson for "inflammatory" statements.

The letter was focused on that Oct. 28 show where FNC host Laura Ingraham and guest John Yoo criticized Vindman.
Marsh failed to mention the fact that Ingraham and Yoo falsely accused Vindman of espionage. Also, while she repeated a Fox News statement that Yoo "has subsequently done interviews to clarify what he meant," she didn't link to any of them. (While Yoo did walk back his false attack, he apparently didn't do so on Fox News, and Ingraham apparently hasn't walked back asything.)
Marsh then played the conservative victim card: "But the media didn't share this same perspective when President Trump threatened legal action against other cable news networks like CNN, which network called a 'desperate PR stunt' that doesn't 'merit a response.'" Perhaps because it was a desperate PR stunt and was seen more as an attempt by a powerful government official to silence a critic.
Marsh concluded by ranting: "The media as a whole have used the 'freedom of the press' as a cover for their biased and frequently false reporting about the President." She offered no substantiation for her claim that reporting on Trump is "frequently false."
This wouldn't be the MRC if it wasn't being hypocritical about things, and sure enough, a few days later, Randy Hall was cheering the type of lawsuit Vindman was threatening befause a conservative was filing it:
There are times when it seems that obviously liberal outlets in the "mainstream media" get away with producing "fake news" without facing any consequences for their poor reporting.

That situation may change after Thanksgiving, when California Republican Devin Nunes -- one of the press's favorite targets during the "impeachment inquiry" held recently in the U.S. House of Representatives -- fights back in federal court against "demonstrably false" articles that have appeared on CNN and the Daily Beast website.

According to an article Washington Times reporter Rowan Scarborough, the items accused Nunes "of meeting with a former Ukraine prosecutor in a hunt for dirt on former Vice President Joe Biden."

[...]

He also stressed that "it is not OK to work with someone who has been indicted on serious federal crimes to build a media narrative and dirty up a member of Congress" with "demonstrably false and scandalous stories."
By contrast, the MRC thinks it's perfectly fine to "dirty up" a member of the military when he won't support the MRC's political agenda.
Unfortunately for Nunes, news broke that phone records show he did, infact, spend time on the phone with Rudy Giuliani's indicted Ukranian buddy Lev Parnas -- something for which he has offered not-very-convincing explanations. The MRC has largely ignored that unflattering piece of evidence, aside from a Jeffrey Lord column ranting that Democratic Rep. Adam Schiff was engaging in "abuse of power" in releasing those phone records.
Posted by Terry K. at 2:25 PM EST