MRC Fails In Lame Attack on Google Journalism Projects
Topic: Media Research Center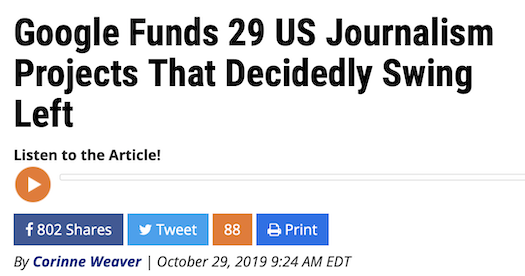 It's a sign of the weakness of the conservative -- and, by extension, the Media Research Center's -- case against "liberal media" that we have this Oct. 29 item by Corinne Weaver. The headline reads "Google Funds 29 US Journalism Projects That Decidedly Swing Left" -- but assumes a couple editorials equals "liberal bias" and Weaver never actually details the projects. She writes:
The same day Facebook launched its "News" tab, Google quietly poured money into news projects around the world. But many of these projects are aimed in one political direction.

The new project, the Google News Initiative North American Innovation Challenge, announced 34 news projects to be funded on Oct. 25. Twenty-nine of these projects were located in the states, while the other four were in Canada. One of the projects was unlisted. The first name on the list for the U.S., The Dallas Morning News, ran editorials announcing its endorsement of Hillary Clinton in 2016 and Beto O'Rourke for Senate in 2018.

[...]

Some of the other projects did not seem to have a political bent (or hadn't been started yet.) But those that were more established, like The Salt Lake Tribune, were definitely tinged with blue. The Tribune endorsed President Obama back in 2012, and in 2017 called for Republican Senator Orrin Hatch to retire.

Typically, the projects were city daily papers or newsletters that promoted Democrats over Republicans.

Maine Today Media, a conglomerate of local Maine newspapers, has a policy of not endorsing candidates, but the editorials still embrace left-wing views on climate change, immigration, and abortion.
That's the laziest form of right-wing "media research" -- assuming that an editorial is accurately indicative of what happens on the news side (or, more specifically, that every "news" organization is run with no wall between news and editorial like the MRC runs CNSNews.com).
Further, Weaver seems to be confusing media outlets with the projects being funded -- which tend to have little to do with promulgating media bias. The project at the Dallas Morning News, for example, will fund "a comprehensive, searchable guide to pre-K through 12 education in North Texas," while the money for the Salt Lake Tribune will help it become "the first US legacy newspaper to transition to a 501(c)(3) nonprofit organization," and the Maine Today Media project is to "create a customer data management solution will combine the open source technologies Wordpress and the Apache Unomi CDP."
Yeah, so much bias there in data management.
Weaver went on to complain that "the Vermont Journalism Trust had an entire section dedicated to Democratic candidate Senator Bernie Sanders (I-VT)" -- as if it was a bad thing that a Vermont-based news outlet covered what the state's most prominent politican was doing. She got even more desperate, playing the guilt-by-association game in claiming that "Detour Media LLCwas not overtly political, but it was founded by Ashley C. Woods, a former Huffington Post Editor." Not only does Weaver not identify anything biased Woods has ever done, either for HuffPost or at any other point in her journalism career, she ignores Woods' journalism career as a whole, which involved working for other Michigan-based media outlets before creating Detour.
Weaver delved into more lazy media-bashing in noting that "The Washington Post, owned by Amazon billionaire Jeff Bezos, is one of the biggest left-wing media outlets." And the Post isn't even a recipient of Google grant money; its offense is that it's "partnerred" with the Lensfest Institute of Journalism, which Weaver admitted is using its grant money for "delivering more newsletters to people in Philadelphia" -- the only project she comes close to identifying.
In sum, this is just a sad, lazy piece that exists to rather tepidly further a narrative, not to report accurate and relevant information.
Posted by Terry K. at 3:29 PM EST