Media Bias: CNS Spins Away John Dean's Testimony
Topic: CNSNews.com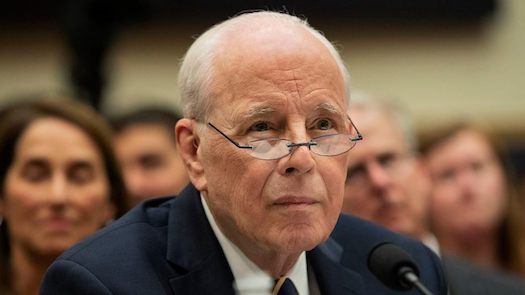 For a "news" organization that's run by a "media research" group that rages against media bias, CNSNews.com sure publishes a lot of biased news. Its coverage of the John Dean's congressional testimony was another example.
CNS' framing was clear from the start, as Susan Jones' June 4 article on the announcement of Dean's testimony, portraying "the Democrat-led [sic] House Judiciary Committee" using Dean's testimony as an "attempt to move forward with impeachment." Jones also portrayed Dean as a serial complainer because "In March 2006, Dean also recommended the censure of President George W. Bush in testimony before the Senate Judiciary Committee."
As the testimony date neared, Jones served up more biased previews. She huffed in one article:
The hearing will feature long-ago White House Counsel John Dean, now a staunch anti-Trumper, who helped cover up crimes in the Richard Nixon administration, then became a key witness against Nixon.

John Dean has nothing to do with the case Democrats are trying to build against Trump, but he will serve as a publicity-generator for the pro-impeachment cause.
In the second, Jones went into pro-Trump spin mode, insisting that what Trump did is nothing like Watergate and treating a dubious Trump tweet as the indisuputable truth:
But one glaring area of difference between Nixon and Trump is that Nixon became aware, after the fact, of the Watergate burglary, the underlying crime that he tried to cover up.

The FBI opened its counterintelligence investigation into Donald Trump without a crime having been alleged.

As Trump repeatedly has tweeted: "NO COLLUSION, NO OBSTRUCTION. Besides, how can you have Obstruction when not only was there No Collusion (by Trump), but the bad actions were done by the 'other' side? The greatest con-job in the history of American Politics!"
In fact, even conservative Fox News anchor Bret Baier has pointed out that "This was not, as the President says time and time again, no collusion, no obstruction. It was much more nuanced than that."
In CNS' only article regarding Dean's actual testimony, managing editor Michael W. Chapman stepped in to personally attack Dean and cite none of his actual testimony:
During Tuesday's House Judiciary Committee hearing on the Mueller Report, Rep. Matt Gaetz (R-Fla.) criticized witness John Dean, a disbarred lawyer and convicted felon, because he had "no knowledge of a single fact on the Mueller Report" and was only there, as a 1970's Watergate culprit, to function as a "prop" for the Democrats.

John Dean, 80, was the White House Counsel to President Richard Nixon from July 1970 to April 1973. Dean testified against his colleagues and was given a reduced sentence for obstruction of justice in the Watergate scandal. He was also disbarred as a lawyer. He has written several books about Watergate and abuses of executive power.

Rep. Gaetz said, "Here we sit today in this hearing, with the Ghost of Christmas Past [John Dean] because the chairman of the committee has gone to the Speaker of the House [Nancy Pelosi] and sought permission to open an impeachment inquiry. But she has said no, and so instead of opening an impeachment inquiry into Donald Trump … we're here reopening the impeachment hearing inquiry potentially into Richard Nixon -- sort of playing out our own version of That '70s Show."

"What I really regret is you're here as a prop," said Gaetz to Dean. "You are functionally here as a prop because [the Democrats] can't impeach President Trump because 70% of Democrats want something that 60% of Americans don't."
Chapman concluded by spinning the Mueller report, misleadingly claiming that it "concluded that no Americans and no one in the Trump 2016 campaign colluded with Russians to affect the election. In addition, the report found no evidence that President Trump had obstructed justice."
Jones served up her own follow-up, which framed Dean as among "anti-Trump partisans" who testified at the hearing. While Jones, unlike her boss, did devote a couple paragraphs to what Dean actually said, she gave much more space to Trump and pro-Trump Republicans attacking Dean.
Posted by Terry K. at 12:39 AM EDT
Updated: Friday, June 28, 2019 12:55 AM EDT