MRC's Graham Mad That Conservative Put Logic Before Politics
Topic: Media Research Center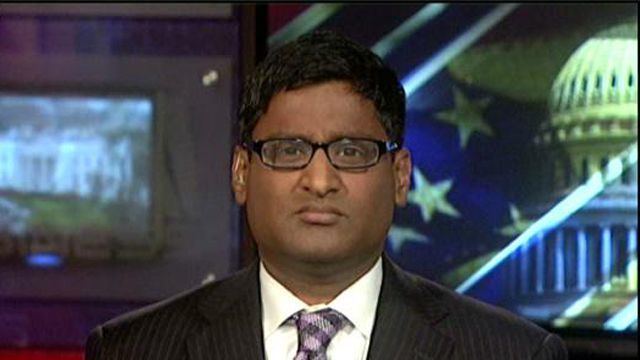 Tim Graham is the Media Research Center's designated hate-listener to National Public Radio, and his NPR-related posts are largely dedicated to ranting that David Brooks, who appears on a fair-and-balanced weekly panel discussion, isn't ranty and shouty and kneejerk pro-Trump and far-right like Sean Hannity. In a May 26 post, Graham gave National Review's Ranesh Ponnuru -- subbing for Brooks on the weekly panel -- the same treatment, accusing him of the crime of being reasonable and logical:
National Public Radio has rotated some other pundits to sit in the "conservative" chair of David Brooks on their Week in Politics review on All Things Considered on Friday nights, often leading to a better, stronger representation of the conservative viewpoint. Sadly, on Friday, Ramesh Ponnuru of National Review was very Brooks-ish, throwing scorn on the declassification of intelligence that might explain the Russian collusion narrative. It's like he doesn't read Andrew McCarthy at NRO, who argues "Russiagate has always been a political narrative masquerading as a federal investigation."
It tells you a lot about Graham's right-wing worldview that he thinks conspiracy-monger McCarthy is the reasonable one.
Graham went on to grouse that Ponnuru "actually underlined that the Attorney General has lost any credibility to be seen as neutral. He said nothing about whether the FBI was neutral in 2016, or whether the media has ever been neutral on this." He further huffed:
No one expects a conservative pundit to agree with the administration on everything. But it would be nice to at least push back against the liberal narrative on taxpayer-funded broadcasting, that there is "no evidence" of wrongdoing in the Russian "collusion" shenanigans, and to note the fascinating take that the Left and the media suddenly oppose more transparency and declassification.

For representing the side of National Review, Ponnuru deserves a "high degree of skepticism on substance."
But Graham is very much expecting -- nay, demanding -- that Ponnuru be an unblinkingly defender of all things Trump, because Trump equals conservativism equals Republicanism, and no one is allowed to deviate from the path.
After Ponnuru responded to Graham at the National Review website by pointing out that Graham didn't actually respond to any point he made on NPR, Graham just had to sneer in response:
Let's start with this: Ponnuru is bringing more passion to attacking me than he did in offering any critique of liberals on NPR. This was the point.

Ponnuri is a whip-smart analyst. He shouldn't pretend he doesn't understand what I was saying, or what "going full David Brooks" means. Let's spell it out: Ponnuru, in tone and content, couldn't be distinguished from the liberal pundit, or the liberal NPR anchor. They all sounded the same.

No article would have been written if he had told the NPR anchor "the Russia-collusion story is over" or anything contentious. Why couldn't he call a liberal less than lucid on NPR? Is he afraid of not being invited back?

The inclusion of the word "collusion" was in reference to Hillary's campaign colluding with Russians on the Christopher Steele dossier, which was used to begin surveillance on Carter Page. [Sabrina] Siddiqui insisted there was "no evidence" of improper monkey business there. Ponnuru offered no rebuttal.
No, Tim, the Clinton campaign was not "colluding with Russians"; it paid Fusion GPS, who in turn paid Christopher Steele for opposition research, who uncovered the Trump-Russia links. All of which is legal.
Graham seems not to have considered that Ponnuru offered "no rebuttal" to Siddiqui is because there really is no "monkey business." To claim otherwise is to demand that Ponnuru promote a conspiratorial right-wing narrative, no matter how loony or bogus it is.
In short, Graham seems to be mad at Ponnuru because he has integrity in putting logic and facts ahead of a dubious political narrative.
Posted by Terry K. at 9:07 PM EDT