Jesse Lee Peterson Still Has Issues With Women
For some reason, the WorldNetDaily columnist is very angry at about all those ladies blowing the whistle on sexual harassers and pervy politicians. And Oprah.
By Terry Krepel
Posted 4/4/2018
---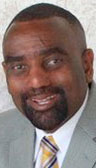 Jesse Lee Peterson
Back in 2014, ConWebWatch detailed how WorldNetDaily columnist Jesse Lee Peterson has issues with women, to the point that he defended Bill Cosby against allegations of sexual assault, asserting that "Cosby has never been charged with rape in a court of law" and painting Cosby as the victim of a conspiracy created by "radical feminists" and "liberal elite power brokers" who oppose Cosby's criticism of blacks.

That hasn't exactly aged well. Neither has his defense of former Fox News host Bill O'Reilly on sexual harassment charges. In a 2017 column following O'Reilly's firing after it was revealed that he paid millions of dollars to settle claims -- not-so subtly headlined "The lynching of Bill O'Reilly" -- Peterson blustered that "even Stevie Wonder can see that the latest allegations against Bill are false," asserting: "O'Reilly's departure from Fox News had little to do with sexual harassment. The firing of O'Reilly is about silencing a straight, white, powerful, Christian man who had the backbone and decency to treat Donald Trump fairly."

Peterson added that "I don't believe" O'Reilly is guilty of the allegations against him, and that even if he was, the punishment doesn't fit the crime and blamed it all on "man-hating feminists." Then again, one doesn't usually pay millions of dollars to accusers if the accusations are false.

Peterson also claimed that "The same leftist groups have tried to get Rush Limbaugh off the air with false allegations of misogyny, but they failed because Rush fought back." Actually, Limbaugh's misogyny -- in the form of denigrating a woman as a "slut" for advocating for birth control -- was very real.
Weinstein, Roy Moore and more
The recent spate of sexual harassment scandals has inflamed Peterson's woman issues yet again.
In his Nov. 5 column, Peterson lamented "the continued destruction of so-called 'men in power' by the radical left and wicked media" like Harvey Weinstein and Kevin Spacey. He then lashed out at the women making those allegations and wondered where the "female Harvey Weinsteins" are:
This "accuser culture" is not about truth, justice or righting any wrongs. If it were, we'd see women too being exposed and dealt with. Why is nobody pointing out how selfish many of these women are for seeking career and position rather than forsaking worldly gain to stand for what's right? If you truly put morality above selfish ambition, no "powerful man" in Hollywood can intimidate or silence you. But these women (and "men") were silent for years and decades.

When God dealt with Adam and Eve after their fall, did he only address Adam? No, he dealt with both, and he did not accept excuses or casting of blame. And "I was afraid" was no reason to hide.

Furthermore, where are the female so-called "sexual predators" in Hollywood and media? Fox News, the Drudge Report and others have shown story after story of female teachers exploiting underage male students for sex. Do you really believe no women in Hollywood or media are guilty as well? It's time to stop hiding this wickedness and hypocrisy. The left does not care about stopping evil. Leftists care about corrupting and maligning everything good about masculinity.

Rape, sexual exploitation, pedophilia and pederasty are not just a "male" or homosexual things: Women do these too – more frequently than you may think. And despite the supposed "locker-room" culture of bragging about sex, boys and men suffer at least as much humiliation and pain at the hands of women as vice versa.
Peterson ramped up his hatred for women in his Nov. 12 column:
So-called "empowerment of women" has nearly brought America to her knees. Women have been allowed to make up any accusation against men, and half the country believes them without any evidence.

Corrupt judges, politicians and media encourage this madness. Accusations against men destroy the good reputations of decent men. They distance supporters from good leaders, wives from husbands, children from their fathers. This separation kills the souls of children, who grow up angry, aimless and out of control. Suspicions play on the imaginations and worries of women in relationships. False accusations breed malice and distrust between men and women.

How do you protect yourself from vindictive, selfish women and their wicked lies?

First, you don't have sex with a woman until marriage. That way, you and she stay less emotionally involved. Liberals have a very low moral standard, or excuse, for sex under any circumstance. They call their low standard "consent," whereas God's standard is marriage. God gave us his commandments to help us live a good life and protect us from evil. Do not fall for Satan's excuses and phony imitation of morality. Even so-called "consensual sex" outside marriage opens you up to all kinds of calamity. The daughter of Satan with whom you slept can change her mind, turn around and accuse you of insane things when the relationship sours. While not every woman will do this, you cannot afford to place your trust in any woman – if you trust the woman, you don't trust God. Whether you know it or not, she will see your weakness, judge you and never respect you.
Peterson then tried to smear one accuser of Roy Moore, among several woman who accused him of perving on teenage girls, by citing ... Newsmax columnist James Hirsen's unproven, slut-shaming claim that she has been "charged with multiple misdeameanors," then adding: "I remind you that if you support Democrats, you support evil. These women are evil."

After Moore lost the Alabama Senate race he was running for -- during which the allegations of perving surfaced -- Peterson was enraged at the idea that black women were a factor in Moore loss, and he channeled that rage into a Dec. 17 column that also attacked blacks in general who don't share his fringe-right-wing, pervy-politician-defending views:
After 98 percent of black female voters (96 percent of black voters overall) rejected a good man, Judge Roy Moore, in favor of wicked Democrat Doug Jones for senator of Alabama, it appeared evil won the night. Hollywood celebrities rejoiced and mocked Christians, saying, God is "a black woman."

[...]

Even if I were into my blackness the way most blacks are, seeing the godless children of Satan applaud the black female vote would give me pause. Blacks with any sense should recognize these attempts at flattery as a major red flag – a warning that most blacks are on the wrong track.

Black celebrities – including Barack Obama, Charles Barkley, Deval Patrick and Cory Booker – pushed blacks to vote for Doug Jones. Decades ago, Jones prosecuted KKK members involved in a 1963 church bombing that killed four black girls. He's done nothing good since, but only deceived blacks and others. Whatever happened way back then, today it is black-on-white violence and murder that's far more rampant than the reverse. But pretending that "racism" is a problem spurs black hatred and hostility toward whites. Both deceivers and deceived will suffer.

[...]

The liberals put gullible and brainwashed blacks into a hypnotic trance by using the word "racist" against Judge Roy Moore, who told the truth that America was greater when families were together, even though we had slavery.

The unchecked daily massacre of blacks around the country by black gang members, drug dealers and abortions, year after year, dwarfs the few thousand or so lynchings blacks suffered before the so-called "Civil Rights Movement."

Blacks' displacement in the workforce and their neighborhoods by the flood of low-skilled immigrants and illegal aliens is worse than Jim Crow or segregation. Democrats and RINOs helped bring about fights and "hate crimes" between blacks and Hispanics, and the continued dependence and competition for government welfare, "health care" and low-quality education.

The absence of men, God, or love in black homes – allowing the unfettered anger of single black mothers and grandmothers and abuse toward children – is more oppressive, traumatic and mentally debilitating than slavery.

[...]

Blacks went from being moral, respectful, hard-working and employed, with good families to immoral, lazy, unemployed, complaining, excuse-making, disrespectful and criminal – with non-existent families, angry women, weak men and out-of-control children.

Blacks attend vacuous churches, regurgitate scripture, sing, dance, whoop and holler – pretending they believe in God. They don't. In 2014, Pew Research reported 83 percent of black Americans said they believed in God. Time for honesty: They lied.
Oprah (and Obama, and Emmett Till) derangement
Peterson began his March 4 column by displaying his usual issues with women, this time flipping out over the idea of Oprah Winfrey being president (with some of his usual Obama derangement mixed in):
Oprah is doing the best she can. She is insecure. She is a liberal. She promotes women, but doesn't seem to respect men. She does not stand against evil, but rather, promotes it.

Oprah believes in "racism" (which does not exist, and never has). She said so-called "racist" older white people "just have to die." She supported Barack Obama, the fallen messiah, the worst, most hateful president this country has experienced.

But I'm telling you: Oprah is worse than Obama.

[...]

As a pastor, I can plainly say: God would not call Oprah to run for president. We already had a girly, insecure, black liberal in office – and he nearly destroyed the country! (Thank God for the great white hope, President Trump, who is putting us back on track and Making America Great Again!)

You don't want Oprah Winfrey for president. You don't want Kamala Harris or Big Momma Michelle Obama.

If you want to know what liberal black women do when in charge, just look at any ghetto in America, where black women run the homes. The children are out of control. The men are weak. Gangs, drugs and violence rule the areas. Black women vote for liberal Democrats – at a rate of 98 percent in Alabama's recent election – and evil people worship them for doing so.
Or, you know, maybe black women were offended that Roy Moore liked to perv on teenage girls -- something Peterson apparently has no problem with.
From there, it was on to more Obama derangement with a heaping helping of hatred for transgenders:
Oprah props up transgenders and homosexuals as "enlightened" people living "authentically," such as Janet Mock, a black man who thinks he's a woman. Barack Obama pushed transgenders in the military, put them in the wrong bathrooms and locker rooms, gave "sex-change" treatment to criminals, and let Chelsea Manning out of prison early. He made wrong people feel right (as Oprah called it, living "your truth"), but he attacked decent people as wrong.
From there, Peterson bizarrely suggested that Emmett Till deserved to be killed:
After George Zimmerman's acquittal in the self-defense killing of the 17-year-old thug, Oprah called Trayvon Martin the "same thing" as Emmett Till, a 14-year-old black boy mutilated and killed in 1955 for allegedly flirting with a white woman. Till's purported killers were also acquitted. So this deceiving woman helped feed blacks the lie that blacks suffer from "racism" and injustice today, when black-on-white crime and hostility is far more rampant.
"Purported killers"? Actually, the two men who killed Till admitted to doing so after they were acquitted of murder by a biased, all-white jury, and the woman Till allegedly flirted with eventually admitted she lied about Till assaulting her.
From there, Peterson smeared Trayvon Martin's father as "a very weak man," then ranted, "If you care about truth and justice, about men, children, women and families – and especially if you call yourself a Christian – you will never support someone like Oprah."
Of course, if Peterson himself actually cared about truth and justice, he would not have supported a credibly accused child molester's political campaign and slut-shame his accusers.
Yep, dude still has issues with women.
The latest from