WND's Peterson Falsely Claims He Doesn't Spread Hate
Topic: WorldNetDaily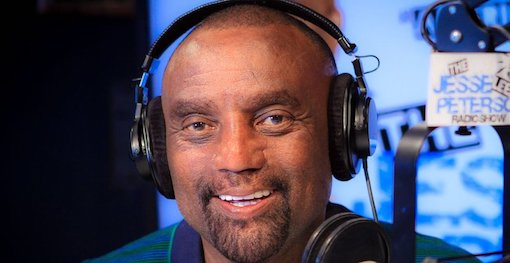 Jesse Lee Peterson spent his June 9 WorldNetDaily column complaining about alleged censorship and demonitization of himself and fellow "conservative and independent voices." He claimed that "YouTube demonetized my channel minutes after taking down two of my videos condemning anti-Jewish hatred by Muslim Congresswoman Ilhan Omar (D-MN) and fringe white extremists who hate Jews." Given that Peterson has spewed nothing but hate at Omar -- in one Facebook video headlined "How Did White America Allow a Muslim into Congress?" Peterson called Omar an "evil, nasty refugee ... from another country" who only "pretend[s] that they like America in order to get into your government" -- we'll accept YouTube's judgment.
Among those other Peterson listed as "conservative and independent voices" like him who are allegedly censored and demonetized by YouTube were Stefan Molyneux and Gavin McInnes -- the former a white supremacist and the latter the founder of the thuggist misogynistic hate group the Proud Boys (which Peterson thinks is just a "fraternity"). Peterson then claimed:
My channel and many others demonetized by YouTube do not spread hate. Every day on my daily radio broadcast (streamed live on YouTube) I tell people to stop blaming and hating others. I repudiate all hatred, blame, and victimhood. In fact, I wrote an entire book on how to overcome it. I rebuke callers on my radio show who harbor hatred toward Jews, whites, blacks or any other group. I encourage them to drop their anger and forgive so they can go free.
Wrong. Peterson is very much filled with hate he loves to spread, with the main targets including women, President Obama, gays and blacks who aren't as far right as he is.
Peterson concluded his column with more gay-bashing, including the declaration that "We all know YouTube's latest adpocalypse is an attempt to silence the truth and purge conservatives in order to appease far-left LGBT activists."
Posted by Terry K. at 12:09 AM EDT