MRC Sports Blogger Sneers At Idea of Equity for Women's Soccer
Topic: Media Research Center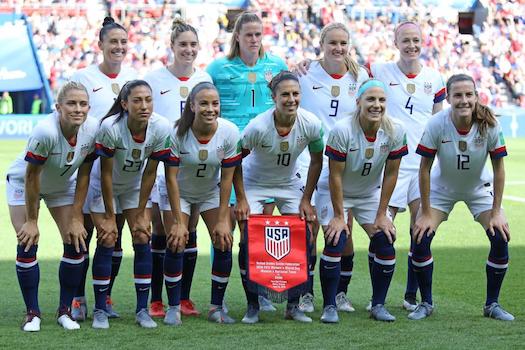 Mysterious Media Research Center sports blogger is at it again, devoting a June 9 post to attacking the U.S. women's soccer team and player Megan Rapinoe in particular for filing a lawsuit against US Soccer for gender discrimination.
Maxson sneered that Rapinoe "earns a six-figure salary as a pro soccer player" but didn't his/her readers that the men's soccer players make much more -- the women make 38 percent of what the men do despite being much less successful in international play. Maxson sneered further: "Rapinoe also complained that men's soccer has the gall to schedule two tournaments while the women's World Cup is ongoing. Apparently, equality requires the men's game to come to a complete standstill during the women's World Cup."
In keeping with his/her gay-bashing ways, Maxson was similarly outraged that "four team members are pushing for radical cultural change" by co-founding a company to make gender-neutral clothing in inclusive sizing, to which Maxson huffed: "Non-binary ways inclusive, that is."
Maxson went on to grumble that "this team is heavily dominated by an LGBT influence. Ellis is married to a woman. The face of the national team in recent years has been lesbians Megan Rapinoe and Abby Wambach. The team has rainbow-themed uniform numbers, and a Christian hopeful of playing with the team last year, Jaelene Hinkle, was considered an undesired 'heretic' to hostile media and fans."
As we've noted, Hinkle declined a call-up to the team in 2017 because she was so bigoted that she refused to wear the rainbow-themed jersey. Sounds like Maxson's kind of people -- though he/she ignores several team players who consider themselves Christian and, unlike Hinkle, are not afraid to associate with people slightly different from them.
Posted by Terry K. at 3:34 PM EDT
Updated: Wednesday, June 26, 2019 3:42 PM EDT