At CNS, It's Buttigieg-Bashing Time
CNSNews.com, a "news" organization filled with gay-bashers, is unsurprisingly eager to repeatedly remind you that Democratic presidential candidate Pete Buttigieg is gay.
By Terry Krepel
Posted 6/25/2019
---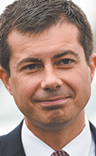 Pete Buttigieg
South Bend, Ind., Mayor Pete Buttigieg was considering a run for the Democratic nomination for president in early 2019. But filtered through the homophobic lens of CNSNews.com managing editor Michael W. Chapman, the only thing that mattered was that Buttigieg is gay.

The headline on Chapman's Jan. 24 article on Buttigieg is headlined "First Openly Gay 'Married' Man Announces 2020 Democratic Presidential Exploratory Committee." The scare quotes around "married" persist in Chapman's head paragraph:
Pete Buttigieg, the 37-year-old mayor of South Bend, Ind., who is openly gay and "married" to another man, announced on Jan. 23 that he has launched a presidential exploratory committee to determine whether he will run for the 2020 Democratic presidential nomination.
The stuff about Buttigieg being a military veteran who served in Afghanistan, a Rhodes Scholar and a magna cum laude graduate of Harvard? Chapman waited until the second paragraph to mention it.
Scare quotes abounded in Chapman's piece: He noted that "On June 16, 2018, Buttigieg 'married' Chasten Glezman at the Cathedral of St. James' Episcopal Church in South Bend, Ind.," and he included a picture of Buttigieg and his spouse with a caption stating that it showed him "and his 'husband,' Chasten Glezman."
He even suggested that Buttigieg was deceitful by claiming that he "came out of the closet as homosexual in June 2015, a revelation he did not make to South Bend voters back in 2010-11 when he first ran for mayor." Chapman did not explain why this was important.
an April 5 article by Alex Madajian under a headline that refers to "Gay 'Mayor Pete'":
South Bend Mayor Pete Buttigieg, an openly gay Democrat who is running for the Democratic nomination for president, said that President Donald Trump's actions indicate he is not "somebody who believes in God." Buttigieg, however, has been criticized for backing away from his view that "all lives matter," and for stopping a pro-life group from opening an office.
First, Madajian offers no evidence that Buttigieg's views of Trump have any connection with the other views he cites. Second, like Chapman before him, Madajian wanted to make sure we knew that Buttigieg was gay and didn't want to talk about the fact that Buttigieg is also a military veteran and a Rhodes Scholar, which are arguably more pertinent qualifications for the presidency.
CNS also ran its Alexandria Ocasio-Cortez strategy against Buttigieg, in which it puts out-of-context quotes in the headline in an attempt to make him look ridiculous for its right-wing audience. A March 20 article by Susan Jones carried the headline "2020 Democrat Pete Buttigieg: 'My Face Is the Message'" -- an apparent attempt to portray Buttigieg as a narcissist. But as Jones eventually concedes (albeit after mockingly claiming that he was talking about his "physiognomy"), Buttigieg was pointing out that his youth is an asset in running for president.
Jones did also tried to downplay the idea there was anything special about Buttigieg, sneering that "Buttigieg, like many other Democrats running for president, wants to change the Supreme Court and abolish the Electoral College, among other liberal policy positions." While Jones did not single out the fact that Buttigieg is gay, she also failed to mention that he's also a military veteran and Rhodes Scholar.
CNS also loves it when someone -- preferably right-wing political pastor Franklin Graham -- attacks Buttigieg for being gay. So when Graham lashed out at Buttigieg for proclaiming his Christian faith, CNS managing editor Michael W. Chapman -- who loves Graham as much as he hates the LGBT community -- was on it, complete with scare quotes for Buttigieg's marriage:
Reverend Franklin Graham criticized Democratic presidential contender Pete Buttigieg, who is openly gay and "married" to another man, for stressing that God does not belong to a political party while ignoring God's commandments against homosexual behavior and so-called gay marriage. Without following God's Word, he said, we have no moral foundation and are at risk of "eternal damnation."

Pete Buttigieg, 37, is the mayor of South Bend, Ind. He is a graduate of Harvard University and Pembroke College, Oxford. Buttigieg is "married" to Chasten Glezman, a teacher.

In an April 23 post on Facebook, Rev. Graham wrote, "Presidential candidate and South Bend Mayor Pete Buttigieg is right—God doesn't have a political party. But God does have commandments, laws, and standards He gives us to live by. God is God. He doesn't change. His Word is the same yesterday, today, and forever."
Chapman filled out his article with selected gay-bashing Bible verses and a statement from St. Bernardine. But he was silent on Graham's hypocrisy in bashing Buttigieg but lending his political and religious support to a thrice-married adulterer who pays hush money to porn stars.
The next day, Chapman gave attention to a rant from "Ana Samuel, Ph.D., a research scholar at the Witherspoon Institute and founder of the marriage movement CanaVox," a "Latina Mama" who hates gays as much as Graham does:
But this "cuts both ways," wrote Samuel, specifically naming "policies that undermine our parental rights and duties by seeking to indoctrinate our children in progressive sexual ideology without our consent and sometimes in spite of our explicit protest."

These policies, she said, include reading assignments in the public schools that are explicitly designed "to normalize LGBT lifestyles"; sex education classes that promote abortion, masturbation, condom use, sex toys, and rectal intercourse; "[p]ediatricians who ask to see our teenagers alone and then push to prescribe them contraceptives or ask them about sexual behaviors that we find offensive"; "public library programming where unicorns, rainbows, gingerbread persons, drag-queen story hours, and other symbols of progressive sexual ideology make an appearance, so that we must regularly steer our toddlers clear of the propaganda"; and promotion of transgender propaganda in the schools.

"Mr. Mayor, it is hypocritical for you to cry foul about policies that 'harm you and your family' while your side pushes for government intrusions into the parent-child relationship at the most fundamental levels," said Samuel.

[...]

As for the gay lifestyle itself, Samuel said, "It is not a good idea to tell society that you don't need a member of the opposite sex to have a baby or that kids don't need a mom and a dad because they will do fine in any kind of arrangement. That's not true, and there's plenty of empirical data to prove it."

[...]

"Ask yourself: is the lifestyle you are setting up as a pattern for others to follow replicable and sustainable?" said Samuel. "Or does it further destabilize the family form that has provided the greatest financial and social stability to women, children, and the poor? The evidence consistently points to the latter."

"The weight of the past 50 years of social science evidence is virtually unanimous in its conclusion: children—and societies—do best when kids are raised by their married, stable, biological parents," said Samuel.

[...]

In conclusion, Samuel said, "Speak up! Do not let the gender ideology of the Left destroy our family values! Do not stop exercising your rights as mothers! Mamas of the world, unite!"
A few days after that, CNS' Craig Bannister complained when Buttigieg once again invoked religious values:
Morals and values are "grievously missing" from the White House today, gay Democrat Presidential Candidate Pete Buttigieg said Monday night.

[...]

But, Christian leaders, such as Reverend Franklin Graham, say that, by practicing homosexuality and gay marriage, Buttigieg is behaving immorally and violating Christian values.

As previously reported by CNSNews.com, Rev. Graham recently rebuked Buttigieg for "ignoring God's commandments against homosexuality"[.]
Like Chapman, Bannister also failed to point out that Graham's political hypocrisy in bashing Buttigieg while gushing over the amoral Trump.
CNS gave column space to John Stonestreet to assert in a May 15 piece that -- addressing Buttigieg in particular -- homosexuals claiming they were "born this way" are making a "zombie" argument:
Nowadays, the LGB movement has largely retired the "born this way" argument to make way for the "T"—transgender identity. So in place of "I was born this way and I can't change," we now hear "I was born this way, it was wrong, and I want to change." In fact, these days, the "born this way" argument almost always comes from self-identified Christians who are trying to convince us that homosexuality is compatible with our faith. I think especially of the comments of Mayor Pete Buttigieg that God made him gay and anyone who disagrees has a quarrel with the Maker.

My response is simple, and I've given it countless times: Even if there is a biological impulse toward a certain kind of behavior, that doesn't make it right to act on the impulse. Science tells us of all kinds of biological impulses for behaviors that are harmful, like depression, extreme anger and violence, anorexia, even pedophilia. And of course, biological impulses don't alter the very clear biblical condemnations of homosexual behavior.
Stonestreet went on to claim that "The clear teaching of Scripture, natural law, Christian tradition, and even scientific evidence leads me to reject same-sex behavior, while still loving and seeking the best for those engaged in it," though he didn't explain how rejecting people different from him equates to "loving" them.

One of the few times you'll see CNS deviate from its aggressively pro-Trump editorial agenda is when he fails to hate gay people as much as CNS does. Chapman seemed to have a sad in a scare quote-laden May 20 article that President Trump doesn't care that Buttigieg "is

gay and 'married' and that he appears on stage with his 'husband.'" Chapman also decided that we need to know Buttigieg "met his 'husband,' Chasten Glezman Buttigieg, on the dating app Hinge."

After that, CNS seemed to have gotten bored with playing that game. Newer articles on Buttigieg's policies didn't mention his sexual preference -- perhaps because they realized it's not relevant. Which is how it should be: It doesn't make a difference whether or not he's gay when he's talking about, say, climate change or the alleged criminality of the Trump White House.

But if Buttigieg gains further political traction, look for CNS to go back to the gay-bashing well. Chapman and crew hate gays enough to do it.
The latest from