Irony: Anti-Vaxxers At WND Fret About Mumps Outbreak At Border
Topic: WorldNetDaily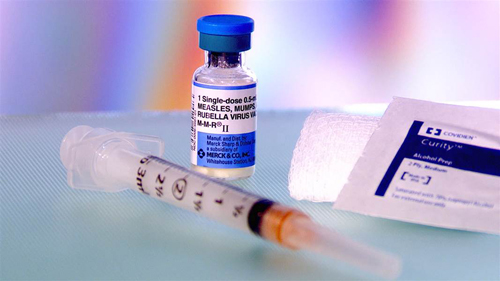 WorldNetDaily fretted in an anonymously written June 14 article: "Thousands of illegal aliens flooding across America's southern border, part of what President Trump repeatedly has described as a national emergency, have been segregated now because they've been exposed to either mumps, chicken pox or both."
Yes, we are supposed to believe that WND -- which has a lengthy record of fearmongering people into not getting vaccinations for diseases like mumps and chicken pox -- is suddenly concerned about the spread of such diseases. Of course, as we saw when it falsely blamed Islam for a measles outbreak in a Somali immigrant community -- WND flip-flops on that policy when it can blame immigrants and migrants for disease outbreaks.
And that's exactly what WND is doing here, further ranting that "There also have been problems with measles and flu among the population of illegal migrants who have broken American laws to enter the nation, and now are being provided services at the expense of U.S. taxpayers."
Then, just as it did a few days earlier, it called up its favorite dubious doc to do even more fearmongering:
Meanwhile, a spokeswoman for Physicians for Civil Defense issued a statement that while public health officials "are preoccupied" with measles, there are hundreds of the newcomers arriving from the war-torn Democratic Republic of the Congo, "where thousands have Ebola."

That potential impact is huge, since, "in the entire U.S., there are about half a dozen hospital beds equipped for safe treatment of Ebola victims," the group said.

"We were very fortunate to escape a disastrous outbreak here during the epidemic in West Africa. There are two new vaccines that generate antibodies, but we don't know how protective they would be – if you are one of the few who could get a dose."

Further, HIV and drug-resistant tuberculosis both are prevalent in Africa.

The statement, from Jane Orient, M.D., said officials and news outlets all should be demanding to know whether entrants from Congo are screened for Ebola, and what precautions are being taken to protect workers.

"Double gloving? Masks and eye protection? Incineration of medical waste? How long are entrants quarantined? The incubation period can be longer than 21 days. What if there is a needle-stick injury? If a case of Ebola is suspected, what is being done to protect other migrants?" her statement continued.
We, of course, know Orient for her association with the far-right Association for American Physicians and Surgeons. Physicians for Civil Defense appears to be just Orient, and its website is just a blog.
But no matter which hat she's wearing, Orient is lying about the existence of an Ebola threat in the U.S. As we documented, any Africans arriving from the Democratic Republic of Congo likely left months ago, and as even she concedes, the Ebola incubation period is 21 days, meaning that any Ebola patient will be struck with the disease long before they arrive in the U.S.
Posted by Terry K. at 2:54 PM EDT