WND's Jesse Lee Peterson Thinks Thuggish Proud Boys Are Just A 'Fraternity'
Topic: WorldNetDaily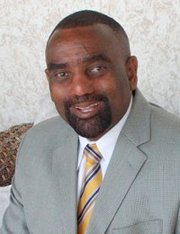 Jesse Lee Peterson's Oct. 21 WorldNetDaily column is his usual right-wing screed of bashing liberals, "out of control" women, those who point out racism, black leaders he doesn't like and the Southern Poverty Law Center. Then he gets to this part:
The SPLC recently labeled Proud Boys as a "hate group." Proud Boys are a fraternity headed by talk show host Gavin McInnes, founded to promote pride in Western Civilization. Proud Boys typically show up to protect Trump supporters and free speech advocates at rallies. The media call the Proud Boys "violent" for getting into fights with Antifa's "masked protestors." The left don't care that Antifa vandalizes property and attack people at events – including law enforcement and anyone with a camera.
Needless to say, Peterson didn't link to the SPLC page on the Proud Boys, which explains why it considers them a hate group:
Their disavowals of bigotry are belied by their actions: rank-and-file Proud Boys and leaders regularly spout white nationalist memes and maintain affiliations with known extremists. They are known for anti-Muslim and misogynistic rhetoric. Proud Boys have appeared alongside other hate groups at extremist gatherings like the "Unite the Right" rally in Charlottesville. Indeed, former Proud Boys member Jason Kessler helped to organize the event, which brought together Klansmen, antisemites, Southern racists, and militias. Kessler was only "expelled" from the group after the violence and near-universal condemnation of the Charlottesville rally-goers.

[...]

McInnes himself has ties to the racist right and has contributed to hate sites like VDare.com and American Renaissance, both of which publish the work of white supremacists and so-called "race realists." He even used Taki's Magazine — a far-right publication whose contributors include Richard Spencer and Jared Taylor — to announce the founding of the Proud Boys.
Further, the day Peterson's column appeared, three Proud Boys were arrested for brawling the week before with anti-fascist groups protesting a speech by McInnes.
Some "fraternity" you got there, Jesse.
Posted by Terry K. at 2:17 PM EDT