Gay Cartoon Characters Send MRC Into Anti-Gay Freakout Mode
Topic: Media Research Center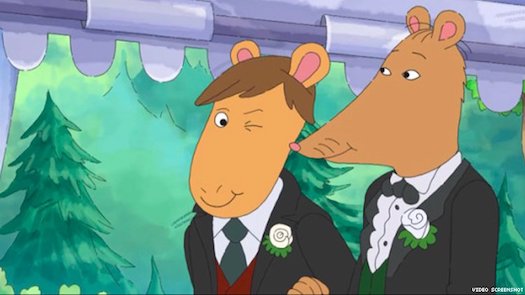 At the Media Research Center, the mere existence of non-heterosexual character in a children's cartoon makes it automatically unsafe for children to watch. Annie Piper explains in a April 29 post:
In this day and age, parents have to be extra cautious about what their kids watch as not all cartoons are actually kid appropriate. Fortunately, there are some innocent shows out there, but then there are shows that aren't as innocent as they seem. One such show, She-Ra and the Princesses of Power, proved to fall in the latter category when the first part of their second season debuted on Netflix on April 26.

The series is a revival of a popular kids action show from 1985, and follows heroine Princess Adora (Aimee Carrero) AKA She-Ra. Upon first glance, the show is something most parents would be comfortable with their kids watching as long as they could handle the fantasy violence, but in its second season the TV-Y7 rated series starts to really push the gay agenda—without actually telling you it is.
And how is the show "pushing the gay agenda"? By acknowledging that one female character "has a crush" on another female character and that another character has two dads" (Piper sneered, "yes, that was plural"). Piper then lectured:
By now, we're (unfortunately) used to most of the prime time adult shows having the requisite gay character and, more recently, even the gay child coming out has become popular on hit shows, but it seems like Hollywood isn't content to stop there. They are now not only pushing this agenda on fictional kids, but actually pushing it to the children in their audiences, and it seems as though they're hoping conservative parents don't watch past the first couple of episodes. Moral of the story: if you don't already, you might want to research your kid's favorite shows a little more thoroughly.
Yes, acknowledging that gay people exist is an "agenda," according to the MRC.
The MRC similarly freaked out when a teacher on the long-running children's show "Arthur" married his gay spouse. Take it away, Gabriel Hays:
Some say that if a hero lives long enough, they'll eventually see themselves become the villain. Well, that certainly can be said for PBS children's classic Arthur. The show, now in its 22nd season, has taken beloved character, Mr. Ratburn, and made him gay. In the season premiere, the 3rd grade teacher and male role model for Arthur and his gang said "I do" to a male anthropomorphic muskrat (or something) in a wedding ceremony attended by his students. As one character exclaimed, "It's a brand new world."
That's right -- if you're gay, you're a "villain," according to Hays. And Hays also apparently believes that the show arbitrarily "made [Mr. Ratburn] gay."
Hays goes on to complain that the show dragged out the wedding ceremony "like some sort of grand reveal that ultimately feels insidious rather than celebratory," then sneers: "Let's just say that Arthur has officially overstayed its welcome."
When a public broadcasting affiliate in Alabama refused to air the "Arthur" episode, the MRC rushed to their defense. Matt Philbin huffed that "The lefty Twitter mob is predictably enraged" by the decision to not air "federally funded gay propaganda." And Kyle Drennen complained that one discussion of the show refused to "acknowledge the controversy of using a kids cartoon show to push a liberal social agenda" and that "journalists immediately attack anyone who objects and demand that they 'celebrate' the effort."
Yes, showing that gay people exist is apparently "propaganda" and an "agenda." And there's no explanation frm the MRC of why the existence of gay people must be suppressed from children.
Posted by Terry K. at 3:04 PM EDT
Updated: Monday, June 3, 2019 6:09 PM EDT