Bozell & Graham Whine About 'Christian Terrorism' Claims, Ignore Pastor Who Called For Execution of Gays
Topic: Media Research Center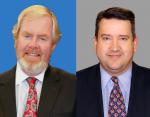 In their Nov. 20 column, Tim Graham and Brent Bozell rant that "what is wholly unacceptable is any attempt to drag Christianity into a moral-equivalency game with radical Islam." They continue:
Then there are the feminists who love to make comparisons of Christianity and radical Islam by implying that Christians should be defined as abortion-clinic personnel killers. Late-term abortionist George Tiller was shot at his Lutheran church in 2009, and then you have to go back to Dr. Barnett Slepian being shot in his own home in 1998. How many tens of thousands have perished at the hands of Islamic radicals during that time frame?

Christians immediately condemned the killing of abortionists, evil as they are, as immoral.
But Bozell (and, presumably, Graham as his ghostwriter) didn't condemn Tiller's death with any hint of enthusiasm -- it was more of a defensive move. In a June 2009 column just after Tiller's murder, Bozell complained that Keith Olbermann called Tiller's murder an "assassination," adding: "Olbermann insisted that the mere act of denouncing Tiller as killer of babies - as if he were instead removing tumors - is an invitation to terrorism and murder."
Bozell cited "an avalanche of press releases from pro-life groups denouncing the killing," but he omitted anti-abortion leader Randall Terry -- whose activism the MRC has promoted over the years -- expressing apparant joy over Tiller's murder, saying that "I believe George Tiller was one of the most evil men on the planet; every bit as vile as the Nazi war criminals who were hunted down, tried, and sentenced after they participated in the 'legal' murder of the Jews that fell into their hands."
Yet Bozell aped Terry's rhetoric, declaring: "George Tiller was a monster who personally murdered 60,000 babies. May God have mercy on his soul." Bozell can't denounce Terry because he sounds exactly like him.
Later, one of Bozell's employees sought to justify Tiller's murder by complaining that "reporters do nothing to help their audience understand why this man was targeted," albeit buried in blather about how "loss of human life is a tragedy."
In short, Bozell and Graham may or may not approve of the method of Tiller's death, but they are certainly gleeful about the results.
There was a more recent example of Christian terrorism Graham and Bozell could have denounced in their column: Iowa pastor Kevin Swanson declaring that gays should be executed. He made this claim at a conference attended by three Republican presidential candidates.
But the entire MRC organization, from Bozell on down, has remained silent about Swanson's anti-gay rant and what it means for the three GOP candidates who were introduced to the stage by Swanson (one of whom, Bobby Jindal, has since exited the race).
Shouldn't Bozell and Graham have addressed this by now, instead of enforcing a code of silence and letting it fester for more than two weeks -- presumably because MRC favorite Ted Cruz is one of the candidates who took part?
It seems that Bozell and Graham can't condemn all Christian terrorism, it shouldn't be complaining about the subject being brought up.
Posted by Terry K. at 10:28 PM EST