MRC Is Now Mad Jeff Bezos Was Allowed To Appear On TV
Topic: Media Research Center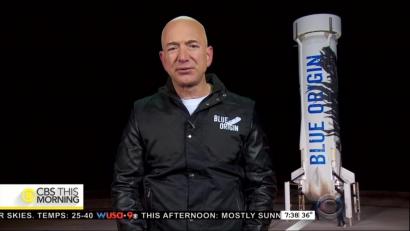 Jeffrey Meyer is apparently the Media Research Center's "researcher" in charge of being angry that an MRC enemy is allowed to be on TV. He's already gone off on Ted Koppel twice this week.
Now Meyer has found another person to be angry about appearing on TV. From Meyer's Nov. 24 NewsBusters post:
On Tuesday's CBS This Morning, co-host Charlie Rose teed up liberal Washington Post owner Jeff Bezos to provide a free advertisement for his newspaper, calling it "the new paper of record" and a "bright light that helps shine light on all of our institutions in this country and the political process."

Bezos, who has donated thousands of dollars to Democratic candidates over the years, refused to admit the Post's liberal agenda and instead spun that the role of the paper is to make sure that the political institution in America "stays strong so that it can shine a light on all of these important players, especially in Washington."
Meyer didn't mention that the segment he's obsessing over is part of a larger, 6-minute interview with Bezos that mostly focused on his rocket company (as if the giant rocket behind Bezos wasn't a clue to that) and which also included questions about Bezos' day job as the head of Amazon.com.
If Meyer is so upset that Bezos "refused to admit the Post's liberal agenda," he should be similarly demanding that his boss, Brent Bozell, admit the right-wing agenda of the MRC's "news" outlet, CNSNews.com.
Really, we see no reason for Meyer's posts on Bezos and Koppel to exist other than as petulant rants -- after all, the only thing he's really complaining about is that they appeared on TV, which means he, and the MRC, are effectively advocating censorship.
Posted by Terry K. at 11:25 AM EST