MRC Tries To Distract From New Film About Catholic Priest Sex Scandals
Topic: Media Research Center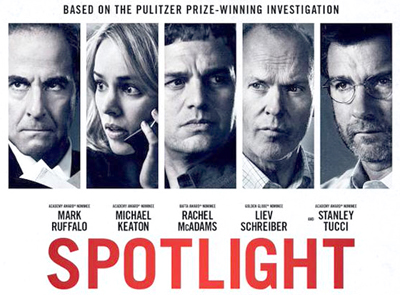 With the release of the film "Spotlight," about how the Boston Globe broke the story of systemic sexual abuse of children by Catholic priests, the Media Research Center is trying to do what it always does when the subject pops up in the media: spin and change the subject.
The Catholic League's Bill Donohue -- who likes to falsely claim that the abusive priests were all gay -- takes a crack in a Nov. 6 NewsBusters post, complaining:
The media are pushing Spotlight, the movie that opens on Friday about the Boston Globe team that exposed priestly sexual abuse in the Boston Archdiocese prior to 2002. But there is little interest in this issue when non-Catholics are implicated in such crimes. As recent cases show, many courts around the nation evince disparate treatment as well.
Donohue then selectively recounts random, isolated cases of abuse from across the country. For instance:
In May 2014, Michael Travis, an assistant softball coach at a Nebraska high school was arrested for sexually assaulting two softball players. Two more alleged victims came forward in December. This past August, he cut a deal with prosecutors. He pleaded guilty to simple assault, and was told he would not have to register as a sex offender or spend a day in jail. It received little media coverage.
Actually, the case in question happened in Iowa, not Nebraska. Donohue doesn't mention that the plea deal was approved by the alleged victims because it would force Travis to surrender his teaching and coaching licenses and agree to never teach or coach again, or that some of the charges against Travis had to be thrown out because they took place before a law specifically outlawing the alleged behavior was enacted.
Donohue goes on to whine: "If any of these accused men had been a priest, both the media and the courts would have acted differently. This is not even debatable." But Donohue delierately omits the reason why the Catholic abuse cases were especially newsworthy, not just in Boston but in other dioceses as well: they were widespread, and church officials spent decades covering them up. Donohue cannot say that about any of the isolated cases he cites as a distraction.
(On the other hand, kudos to the MRC for disclosing at the top of Donohue's post that MRC chief Brent Bozell is a member of the Catholic League's board of advisers, which it didn't do until we started pointing it out.)
Then, in a Nov. 15 post, MRC official Tim Graham sneers that the film "claims to be an accurate representation of the Boston Globe's Pulitzer Prize-winning crusade in 2001 and 2002 against clerical sex abuse in the Catholic Church," then goes into distraction mode by also falsely playing the blame-the-gays card:
Surely, it's a true story that there were monsters disguised as men of God that abused children. But it's also true that there are contrary facts that this reporter-boosting movie excluded, like the gay-activist priests that the Globe promoted in its pages -- until it turned out their gay liberation was unleashed on children.
The headline of Graham's post reads, "WashPost Critic: Heroic Liberal Reporter Movie Like 'Watching Porn'." But Graham gets this wrong too: As the excerpt he uses makes very clear, the Washington Post critic is actually quoting someone else saying that.
Graham's manufactured freakout over that statement is odd, since he apparently wasn't offended by his boss, Brent Bozell, creepily called Republican ranting about media bias "better than sex."
Posted by Terry K. at 5:13 PM EST