ConWeb Censors GOP Candidates At 'Kill The Gays' Conference
Topic: The ConWeb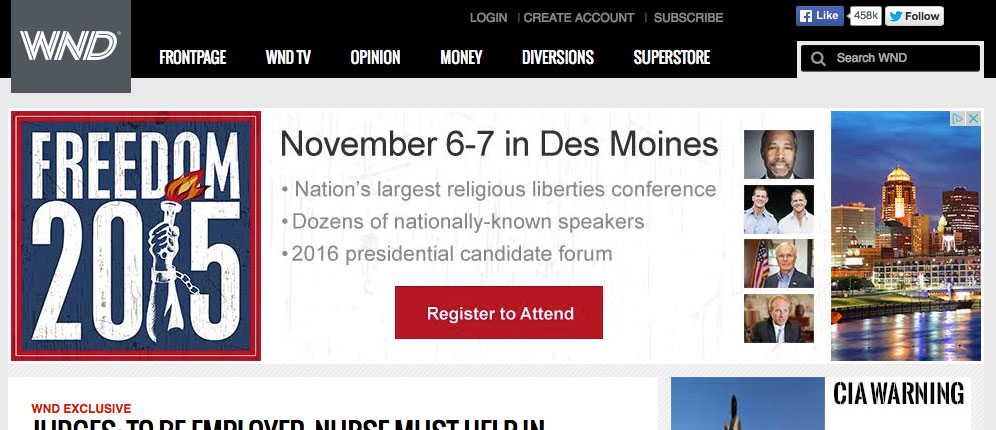 Last weekend, Republican presidential candidates Ted Cruz, Mike Huckabee and Bobby Jindal all spoke at the National Religious Liberties Conference in Iowa, hosted by anti-gay pastor Kevin Swanson. How anti-gay is Swanson? During his wildly ranting speech at the conference, he
called for gays to be executed
. Swanson also introduced Cruz, Huckabee and Jindal to the stage for their speeches.
But if you read the ConWeb, you wouldn't know anything about what happened at this conference.
There was some promotion of the speech on the ConWeb beforehand; for instance, it was advertised at WND beforehand -- and, strangely, well after it ended; the above screenshot was taken on Nov. 13. The Media Research Center attempted a little damage control before the event, with both NewsBusters and CNSNews.com highlighting Cruz being asked on CNN if he is "endorsing conservative intolerance" by appearing at the conference. But the MRC would only describe Swanson as an "activist pastor," playing down his well-documented anti-gay history.
But after the conference? Nothing. Zip, zilch, nada.
No mention at WND, even though WND columnists Jason and David Benham spoke at it and even though WND is enough of fan of Swanson that it sells his books. No clips from the event at CNS, even though managing editor Michael W. Chapman loves posting anti-gay clips.
Not a word at NewsBusters, though it did publish a post referencing Jeremiah Wright, who did not avocate the killing of an entire group of people. Even the MRC couldn't be aroused enough to complain about Maddow highlighting the event.
Even Accuracy in Media -- home of noted homophobe Cliff Kincaid, who actually supported the proposed "kill the gays" bill in Uganda -- hasn't said a word about Republican candidates lending their support to, and receiving it from, a pastor who supports executing gays.
To demonstrate how radioactive Swanson currently is, WND columnist (and noted gay-basher) Michael Brown distanced himself from Swanson and the event -- but not at WND. He penned his distancing at fringe right-wing site BarbWire, run by professional gay-basher Matt Barber. Brown even ran to the defense of the andidates, claiming that "I also feel confident that, had they known in advance what Kevin Swanson, the conference's chief organizer, planned to say, they would not have attended the rally."
The ConWeb's silence on Swanson's hateful remarks , and on Republican presidential candidates who are effectively condoning that hate by appearing with the man who spewed it, tells us the underlying anti-gay nature of the ConWeb. But you knew that already.
Posted by Terry K. at 9:41 PM EST