MRC Is Mad Hillary Tried To Correct A False Story
Topic: NewsBusters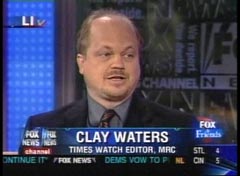 Clay Waters sure tried to make it sound as sinister as he could in a July 24 MRC NewsBusters post, asserting that "after pushback from the Clinton camp," a New York Times story claiming that inspectors general have asked the Justice Department to open a "criminal investigation" into Hillary Clinton's handling of "sensitive government information" on a personal email server while secretary of state because a "laughably evasive, indirect accusation." Waters highlighted how "the Hillary team had complained to the Times about the initial Thursday night story, and the paper (surprise) complied."
Waters doesn't explain why it's such a bad thing for the Clinton camp to complain about an inaccurate story and try to have it corrected. And as the following days after Waters' post shows, it was very much inaccurate.
The Times has now corrected its story to state that there was, in fact, no criminal referral, let alone any request for an investigation. A second correction states that what happened was a "security referral," not a criminal referral. Times public editor Margaret Sullivan adds that the referral wasn't even targeted at Clinton specifically, but a general referral into how classified information was handled regarding Clinton's personal server. Sullivan said of the story: "So it was, to put it mildly, a mess."
Yet Waters' post has not been updated to reflect that the Times story's central claim has been retracted, nor has any other MRC article admitted that the story is false. Indeed, another NewsBusters post coming shortly after Waters', a July 24 item by Kyle Drennen, repeats the now-discredited claim that the "Justice Department was considering launching a criminal investigation into Hillary Clinton's e-mail scandal" and that "the Times altered the story after being pressured by the Clinton campaign."
Will Waters, Drennen and the MRC ever tell their readers that the Times story they hyped was false and that Hillary was absolutely correct to push the Times to get it right? Don't count on it.
UPDATE: A July 27 NewsBusters post by Yuri Perez admits that the inspectors general's recommendations "did not lead to a 'criminal referral' as initially reported by the New York Times, but rather to a 'security referral.'" But Waters' and Drennen's posts touting the Times' original article falsely referring to a "criminal investigation" remain uncorrected.
Posted by Terry K. at 9:10 PM EDT
Updated: Monday, July 27, 2015 9:55 PM EDT