MRC's Bozell, Regular Fox Guest, Loved The Fox Business GOP Debate
Topic: Media Research Center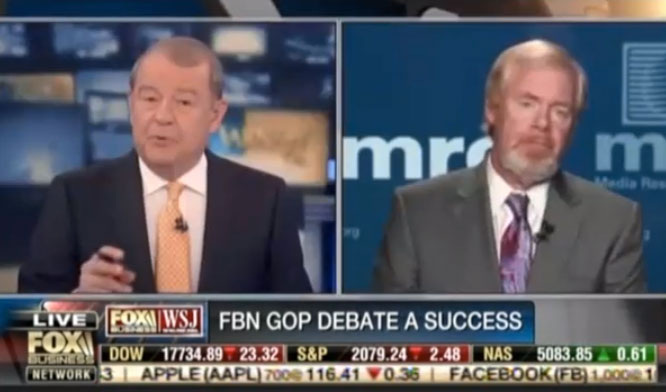 Two things to know about Media Research Center chief Brent Bozell: He loves Fox News -- so much so that he has been given a weekly segment for the past few years, which currently airs on "Hannity" -- and he doesn't like Donald Trump.
These two things are directly reflected in the way the MRC pushes its anti-media "liberal bias" agenda. When Trump complained about how Fox News anchors moderating the first Republican presidential debate displayed liberal bias against him, the MRC ignored him and refused to criticize Fox News. By contrast, Bozell and the MRC couldn't stop whining about the questions at the CNBC-hosted Republican debate despite being unable to demonstrate any actual "liberal bias" at a network whose financial news caters to conservative-leaning viewers.
Given that history, how do you think Bozell reacted to the Republican debate hosted by Fox Business? Well, "fawning" isn't nearly strong enough a word. Try "slobbering."
The MRC telegraphed its reaction in an email sent the day of the debate in which it confidently declared: "FOX Business and The Wall Street Journal will be moderating tonight's fourth Republican presidential debate this evening. Unlike the rabidly left-wing, anti-conservative CNBC moderators, we expect tonight's moderators to exhibit journalistic integrity and basic decency."
Apparently, the MRC's idea of "journalistic integrity" was for the moderators to refuse to correct the candidates when they got a fact wrong, or even to answer the questions that were asked; as TPM's Josh Marshall noted, it was a debate "debate structured around letting candidates say absolutely anything -- because scrutinizing candidates is liberal."
Needless to say, Bozell couldn't be happier. (Was it better than sex, as he creepily declared it was for him when Republicans squawked about the purported bias at the CNBC debate? He hasn't shared that with us yet.) Bozell issued a statement immediately after the debate that did suggest some orgasmic satisfaction:
"Fox Business promised to best CNBC in the management of a debate. Fox did not best CNBC, Fox utterly humiliated their competition. Quite simply, this network did a fantastic job moderating both of tonight's GOP primary debates. They asked fair serious, substantive questions, and did so respectfully.

"It's amazing what you can learn from debates when obnoxious liberal moderators aren't there. I hope CNBC and future debate moderators took notes. The Fox Business moderators didn't engage in personal insults or ad hominem attacks. Fox Business completely outclassed CNBC."
And to further demonstrate he knows what side his bread is buttered on, Bozell appeared on Fox Business -- a channel he likes to appear on -- to slobber all over the Fox Business debate, asserting that the moderators "asked good questions, it was all about the candidates, and this is what a debate is supposed to be about." Bozell added that "you certainly in three minutes got more out this Fox Business debate than in two ours, or seemingly eight hours, on CNBC."
Of course Bozell will proclaim his love for the Fox Business debate. He wants to continue appearing on Fox Business and Fox News, after all.
In other words, he has skin in the game, which is more than enough reason to dismiss his opinion on debate quality.
Posted by Terry K. at 7:51 PM EST
Updated: Saturday, November 21, 2015 12:40 AM EST